Ergonomics and Biomechanics Products
HUMANCAD®
As of December 31, 2011, Support for ManneQuinELITE and ManneQuinPRO versions 8 thru 10.2 will be limited to license assistance. Support for Version 7 and earlier were previously discontinued.

We wish to remind customers who wish to upgrade to HumanCAD that upgrade credits are available to customers of ManneQuinPRO Versions 7 through 10.2, ManneQuinBE and ManneQuinELITE. The value of these credits is reduced each December 31st.
I2M HM-Analyzer (Human Motion Analyzer)
The latest version includes many new features and other updates. These include:
Processing of off-line data
Button switch support
Extended View added: It allows the user to visualize which devices the limbs are mapped to and maps devices to segments easily.
New conventions for Euler Angles are now available which the users can choose from.
The users can now visualize angles in degrees. An interface was added to allow users to switch from radians to degrees format for Euler Angle Graphs.
A timer for the T-Pose calibration was implemented. The user can perform T-Pose calibrations on their own, even when all the sensors are mapped.
New Extended Joint mappings filter which allows the user to easily select only the joints they want to analyze and not the two segments that are attached to a given joint. It will also display clinical joint angles.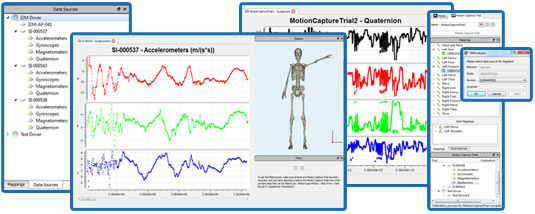 Learn more at: www.nexgenergo.com/ergonomics/HM-Analyzer.html
I2M Products
We will shortly start shipping a new Wireless Access Control Unit which will provide users of our SXT IMUs new options to synchronize them with various 3rd party systems and equipment. We have also added a unique feature that maintains synchronization between multiple systems down to microseconds throughout a recording.
Input Synchronization

An isolated digital input line is continuously recorded in the SXT data stream. The "high" voltage level of this input bit is user selectable to either 3.3V or 5V.
TK Motion Manager (TKMM) can be configured to record SXT sensor data whenever the input line is high.

Output Synchronization

An isolated digital output line goes high whenever TKMM is recording data from the SXT sensor. The "high" voltage level of this output bit is user selectable to either 3.3V or 5V.
There is another isolated digital output line which is the 2.56 KHz sample clock from the SXT. This allows the user to align their data with the SXT's exact sample clock.
Learn more at: www.nexgenergo.com/ergonomics/I2M-IMUs.html
Mark-10 Products
The All-New 5i & 3i Indicators

The all-new Models 5i and 3i force/torque indicators are designed to work with a range of remote force and torque sensors. Plug & Test™ technology allows for the connection of any Mark-10 sensor to either indicator with instant recognition of configuration and calibration information. These replace the Model BGI force/torque indicator and associated sensors.

Learn more at: www.nexgenergo.com/ergonomics/Mark10_3i.html
and www.nexgenergo.com/ergonomics/Mark10_5i.html
and www.nexgenergo.com/ergonomics/Mark10_5i-3i_sensors.html
New Series TT03 and TT03C Torque Gauges

The new Series TT03 and TT03C torque gauges replace the Series MGT and MGTC gauges. Also being introduced is a series of new grips and fixtures which include:
Turret-style wire terminal grip
Vise grip, standard
Vise grip, self-centering
Score bend fixture
Opening force fixture
Learn more at: www.nexgenergo.com/ergonomics/Mark10_TT03.html
and www.nexgenergo.com/ergonomics/Mark10_TT03C.html
and www.nexgenergo.com/ergonomics/Mark10_Grips_Attachments.html
New Mark-10 EK3 & EK5 Ergo Kits

These new ergonomics testing kits include the new Series 3 and Series 5 gauges.

Learn more at: www.nexgenergo.com/ergonomics/Mark10_EK3.html
and www.nexgenergo.com/ergonomics/Mark10_EK5.html
New CTA Calibration Kit

This calibration kit is designed to permit the field calibration of any Series CTA cap torque tester.

Learn more at: www.nexgenergo.com/ergonomics/Mark10_ac1036.html
New M5-1000 Digital Force Gauge

The all-new M5-1000 force gauge features a capacity of 1000 lbF (5000 N), and is based on the Series 5 gauges. Overall dimensions are slightly larger than lower Series 5 capacities, and the gauge utilizes an S-beam load cell.

Learn more at: www.nexgenergo.com/ergonomics/Mark10_5_Gauges.html
Lumbar Motion Monitor™
The new iLMM3 has been shipping since September. We are still working on clearing a backlog of orders and expect improved lead times by first quarter 2012.

Learn more at: www.nexgenergo.com/ergonomics/lumbarmm.html
Biometrics Ltd. Products
New Audio Input Cables

Biometrics Ltd. is now offering two different audio input cables for use with either the DataLOG or DataLINK. They are:
AC1500M - Mono Audio Input Cable (requires one DataLOG/DataLINK analogue channel)
AC1500S - Stereo Audio Input Cable (requires two DataLOG/DataLINK analogue channels)
Please note these are audio input cables only, not microphones.

Learn more at: www.nexgenergo.com/ergonomics/bioaudio.html
FSA Products
The ST1500 pressure mats resolution has been increased and are now equivalent to standard seat mats.

Learn more at: www.nexgenergo.com/ergonomics/fsast1500.html
MVTA (Multimedia Media Task Analysis)
Customers who are upgrading to Version 3 from Version 2.8 or 2.9 and who have a USB license dongle will need to have that reprogrammed when upgrading.

Learn more at: www.nexgenergo.com/ergonomics/mvta.html
AnyBody
New Software Release: Highlights of The AnyBody Modeling System v. 5.1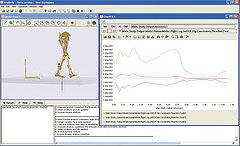 Prediction of In-Vivo Kinematic Performance of Prosthetic and Natural Joints

Robustness of the FDK solver has been increased in the new AnyBody Modeling System version 5.1 to handle surface contact that affects the force-dependent kinematics degrees of freedom. A new surface contact force model predicts surface contact forces based on the rigid penetration of two geometrical objects (surfaces) defined by standard STL files or by AnyBody's native ANYSURF files. Thus, the contact model is similar to rigid-rigid contact models in finite-element systems and approximates contact force as the integral of the penetration times a constant. This produces a force with elastic behavior where material non-linearity, surface geometrical deformations, and friction are neglected.

Therefore, AnyBody's contact model is aimed at predicting the kinematical behavior of surface contacts in combination with the FDK solver, e.g. natural joints and prosthetic joints. The correctness of the kinematical behavior is essential for the predictions from the musculoskeletal models since it determines muscle and ligament working conditions (moment arms). In contrast, for analysis of surface pressure and stresses in the surface material finite element analysis using dynamic forces predicted by the AnyBody simulation will still be needed.

Model Updates and New Model Processing C3D Mocap Data

Version 1.4 of the AnyBody Managed Model Repository (AMMR) has been released together with the AnyBody Modeling System (AMS) v. 5.1. It supports and uses facilities of the new AMS and we'll get it bundled together with new v.5.1 when you download it. This means that many models in, or based on, AMMR 1.4 will not run in older AnyBody versions.

Aimed at subject-specific modeling a significant update is the improved usage of scaling functions for the human model scaling. This together with the new scaling functions available in AMS v. 5.1 make the combination of the new AMS and AMMR v.1.4 a significantly better starting point for users. It is recommended to use the new software release and repository as basis for your modeling.

The model C3DProject has been added. It replaces the GaitLowerExtremityProject model as an example of interfacing to MOCAP C3D data. C3DProject features many new GUI facilities available in AnyBody Modeling System version 5.1 making use of the AnyBody Project tab and the HTML-based descriptions. A predefined workflow guides the user through the necessary steps and creates links to variables which would typically need to be adjusted.

Learn more at: www.nexgenergo.com/ergonomics/anybody.html
Ametek/Chatillon Products
Ametek has launched a new range of Chatillon Digital Force Gauges, the DF II Series. This new family of 5 digital force gauges and new torque gauge includes the DFS II model with wireless data transfer and communication via integral Bluetooth!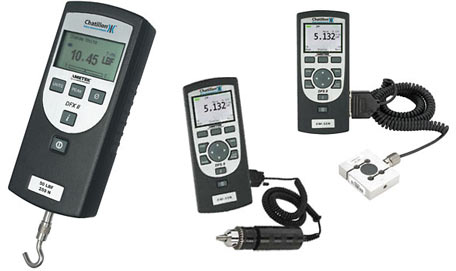 The new product line, which replaces the existing models DFX, DFE and DFS gauges and DFS associated remote load cell/sensor versions, includes 5 new models:
Xsens Products
NexGen has a 3 sensor Xbus demo kit available at a discounted price. Please contact us at salesinfo@nexgenergo.com for details.