Ergonomics and Biomechanics Products
HumanCAD®
NexGen is pleased to announce the release of its new HumanCAD2 3D human modeling platform.

HumanCAD2 is a completely redesigned solution, and is the 4th generation of our human modelling product line since the launch of the world's first PC based human modeling solution ManneQuin in 1990.

HumanCAD Standard Mannequin Edition (SME) includes all the databases in previous versions as well as additional features and functionalities. These include the new 'see point' to compliment the reach point function, and an improved mannequin skin. Additional file formats are now also supported.

The optional modules ErgoTools and CADExchange are available for both versions.
Learn more at: www.nexgenergo.com/ergonomics/humancad2.html
ManneQuinPRO/ELITE
Please note that as of December 31, 2011, support for ManneQuinELITE and ManneQuinPRO versions 8 thru 10.2 is limited to license assistance. Support for Version 7 and earlier were previously discontinued.

We wish to remind customers who wish to upgrade to HumanCAD2 that upgrade credits are available to customers of ManneQuinPRO Versions 7 through 10.2, ManneQuinBE, ManneQuinELITE and HumanCAD V1.0 through V1.2. The value of these credits is reduced each December 31st.
AnyBody
We are pleased to announce two add-in modules:
AnyGait™
AnyGait™ is a powerful and easy-to-use application for clinical gait labs and gait researchers. AnyGait enables you to obtain sophisticated best-in-class musculoskeletal analysis of trials as part of your daily routine. Our Graphical User Interface enables clinical gait lab staff, without programming skills, to process motion capture data in the AnyBody Modeling System, the world's leading comprehensive musculoskeletal simulation package. Includes:
Streamlined, Intelligent Musculoskeletal Analysis
Easily Match the Model to Each Subject
Automatic Functional Joint Center Calculations
Dynamic Kinetic and Kinematic Results
Obtain Individual Muscle and Joint Forces
Validated Output - Customizable to Your Workflow
AnyGait processes motion capture data and ground reaction forces.
Learn more at: www.nexgenergo.com/ergonomics/anybody_AnyGait.html
SolidWorks2AnyBody
Products with man-machine interfaces such as prostheses, fitness machines, and exoskeletons require significant testing in physical labs to meet the high requirements for function, comfort, and safety. The AnyBody Modeling System enables users to shortcut this process by conducting virtual musculoskeletal modeling tests of designs. The effort needed for this analysis is greatly reduced with the integrated add-in to convert CAD models into AnyBody models.

SolidWorks2AnyBody is an add-in for SolidWorks. The tool translates SolidWorks CAD models into corresponding AnyScript models, including all mass properties, mate relationships, and color information of the different parts.
Learn more at: www.nexgenergo.com/ergonomics/anybody_Solidworks2.html
I2M Inertial Sensor Products
A new 1.8 meter cable with a button switch is now available that can be connected to a SXT to identify calibration pose events when using HM-Analyzer. The micro button switch is still available.
HM-Analyzer (Human Motion Analyzer)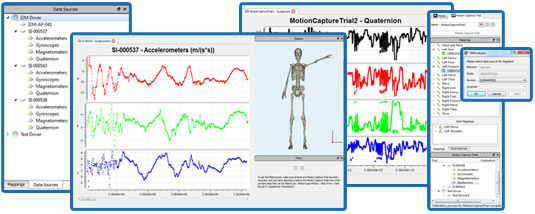 New versions were released with the latest being version V1.2. New features include:
New filters include: APDF, Bessel, Butterworth, Chebyshev I, Chebyshev II, Differentiation and Rectification, Acceleration and Velocity
Ability to apply DATS (Data Analysis Tools Set) for data recorded offline through 'Segment 2 Joint' filter
Ability to change wireless frequency (in case of transmission conflicts in the vicinity)
Setting of start and end time of recordings
Animation has been added which includes the following features:

You can replay a recording as well as an offline imported file.
By pressing control, you can now zoom in and out on the graphs using the mouse wheel. As well, it is possible to draw a rectangle to zoom in on a particular section of displayed data. This zoom method only works for the time axis.
You can click on any part of the data plot to set the time cursor.

Offline processing now allows you to eliminate data before and after the calibration button has been depressed. First depression is the calibration pose and the second depression represents data completion (end of valid data recording sessions).
Ability to save a mapping
Performance improvement for loading/applying offline calibrations
The offline DATS interface has been changed. The different blocks are now presented in a tree format that can be opened and closed. To select a given block, the user needs to double click on the block of interest. The description of the blocks can be viewed by hovering the mouse over the block.
Learn more at: www.nexgenergo.com/ergonomics/HM-Analyzer.html
Mark-10 New Series TT02 Torque Tool Testers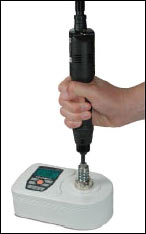 We are pleased to announce the new Series TT02 Torque Tool Testers – immediate successor to Series STA. This exciting new series is ideal for power tools and manual tools up to 100 lbFin (11.5 Nm).

The TT02's blazingly fast sampling rate now opens up numerous power tool testing applications, in addition to manual tool requirements. The TT02 retains the same overall functions, dimensions, and general appearance as Series STA, along with the familiar electronic interface used in other new Mark-10 gauges. Some important features and upgrades include:
7,000 Hz sampling rate for accurate peak torque capture for power tools
First/second peak capture for slip/click type tools
USB, RS-232, Mitutoyo, and analog outputs
1,000-point data memory with statistical calculations
Automatic data output, automatic data storage, and automatic zeroing upon tool click or slip
±0.3% accuracy
Programmable set point indicators and outputs for pass/fail determination
Password protection of calibration and menu to prevent unauthorized changes
MESUR™ Lite software and USB cable included
Learn more at: www.nexgenergo.com/ergonomics/Mark10_TT02.html
Biometrics Ltd. Products
DataLINK
The DataLINK system is now fully compatible with the Windows 7 operating system, including the use of multiple DataLINK systems to provide solutions for up to 32 channels.
Learn more at: www.nexgenergo.com/ergonomics/biodatalink.html
Release of Version 8.5 Analysis Software
This new software for the DataLINK and the DataLOG system provides the additional capability to display and fully time synchronize a single video file with the data collected. For ease of use the video does not have to start or stop at the same time as the recording because this can be easily achieved after capture.
Learn more at: www.nexgenergo.com/ergonomics/biodatalog.html
DataLOG Batteries
New recommended batteries for DataLOG. Besides the ones listed in the user manual, Energiser Ultimate Lithium 1.5V AA test results show they are superior to others.
FSA - BodiTrak Smart Beds and Seat Mats
Smart surfaces that continually monitor the position and interface pressure of a person, and then intelligently adapt the surface to increase comfort and help prevent sleep disruptive breathing or tissue trauma. All made possible by the world's only elastic and breathable fabric sensor that can't be felt when hidden in a surface.
Learn more at: www.nexgenergo.com/ergonomics/BodiTrak.html
Xsens Products
NexGen has a MTi-28A53G25 available at a discounted price. Please contact us at salesinfo@nexgenergo.com for details.