Ergonomics and Biomechanics Products
HUMANCAD®
NexGen is pleased to announce the release of Version 2.5.

New features include:
Female mannequins are now supported in the ErgoTools MQ biomechanical model
New automated move to which allows the user to move a mannequin to an object, or an object to an object (i.e. any 2 items in a scene by simply clicking on the point to touch the other object or mannequin)
New save/load custom anthropometry feature
New and improved skinning for mannequins (male/female)
New function to reload an imported CAD file which was modified in any CAD software allowing you to perform human factor analysis of your 3D file more quickly.
New somatotype feature: Using the anthropometry editor you can now modify the somatotype of your virtual human model. Options include determining how much closer the digital human will be to an ectomorphic or an endomorphic body style.
The Anthropometry Editor now enables customization of segments (such as arm, leg, etc...) dimensions by both percentiles and user specified values. Custom anthropometries can also now be saved for reuse.
BSIP (Body Segment Inertial Parameters) as defined by McConville et al. (1980) (on male US Air force soldiers) and Young et al. (1983) (on female US Air force soldiers) are now supported in HumanCAD: these methods allow elaborating more realistic segments masses, centers of mass and matrices of inertia.
The Advanced Functions Set enhancements include:
Advanced mannequin representation with more realistic degree of freedom and more segments which include detailed spine model (18 versus 3), ulna-radius rotation.
Mannequin with customizable head variable using US army 1988 and Canadian military database of 1997 anthropometric values. The additional head variables are:

Distance between the eye to the top of the head
Distance between the centers of the pupils in each eye (Pupillary Distance (PD) or interpupillary distance (IPD))
Head breadth
Head height
Head length

Mannequin skeleton representation
More detailed shoulder model
New mannequin skinning applicable for new variables.
Learn more at: www.nexgenergo.com/ergonomics/humancad2.html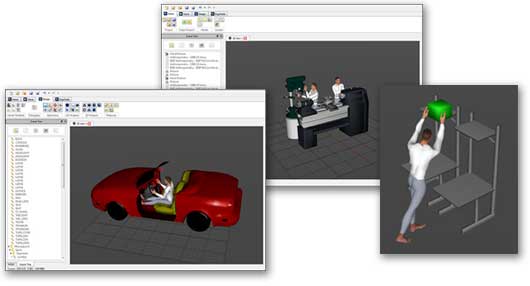 ManneQuinPRO/ELITE
After December 31, 2011, support for ManneQuinELITE and ManneQuinPRO versions 8 thru 10.2 was limited to license assistance. Support for Version 7 and earlier were previously discontinued.

We wish to remind customers who wish to upgrade to HumanCAD2 that upgrade credits are available to customers of ManneQuinPRO Versions 7 through 10.2, ManneQuinBE, ManneQuinELITE and HumanCAD v1.0 thru V1.2. The value of these credits is reduced each December 31st.
FSA - BodiTrak Pressure Mapping and Temperature Mat Solutions
BodiTrak products use the new T7 electronics that are integrated right into the stretchable smart fabric sensing mat and connect directly to the PC via USB. This has brought the cost of pressure mapping solutions down considerably while also increasing sampling rates. They are easy to install, use and maintain. Sampling rates with T7 are 150Hz for one seat mat and 75Hz when 2 seat mats are connected.

With the T7, all pressure mat calibration information is now stored on the mat, so calibration files cannot be lost.

We are also pleased to announce that all temperature mats can now also be ordered with the new T7 electronics.

The latest FSA 4D software version is FSA 4.1 Version: 4.1.001.
Learn more at:
www.nexgenergo.com/ergonomics/BodiTrak.html
www.nexgenergo.com/ergonomics/fsatemp.html
MVTA (Multimedia Video Task Analysis®)
We are pleased to announce that Version 3.1 will be available in October 2013. New features include:
Video files support for MPEG-4 (mov,mp4,mkv,divx)
Multiple (up to 3 slave) video window playback has been added. (The quality of playback is dependent on the CPU and Graphic processor speed.)
Replace Event Breakpoint in Breakpoint Menu
Certain issues have also been corrected and include:
Video frame and Data file re-alignment; previous versions produced incorrect MDFs.
Go to frame feature which is accessed by Double-clicking on the Frame Number in the DV windows.
Learn more at: www.nexgenergo.com/ergonomics/mvta.html
AnyBody
We are pleased to announce the release of the AnyBody Modeling System Version 6.0 which includes several new features. These include:
Muscle Wrapping
New wrapping contact algorithm
Sheet geometries:

Elastic sheet
Wrapping over analytical surfaces
Additional constraints
New Output
Kinematic Measures:

New output associated with input-nodes
More efficient updating

Forces:

3D force/moment vectors
Global coordinates
Similar for all objects
New Force Visualization
Display all forces based on the Model Tree
Show current values or components
Finite Elements Interface New Export-filters
Easier to define selected output for FE
Support for multi-segment FE modeling
New Model Default Joint Drivers
Learn more at: www.nexgenergo.com/ergonomics/anybody.html
Mark-10 Products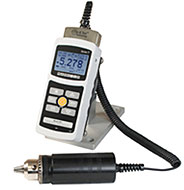 The new Mark-10 Advanced Series 7i indicator has been released.

The all new Model 7i Professional Force/Torque Indicator accepts a number of interchangeable force and torque sensors, joining Mark-10's more basic 5i and 3i models. The 7i features a blazingly fast sampling rate of 14,000 Hz, high speed data capture, automatic output upon sample break, 1st/2nd peak detection, programmable footswitch sequencing, and many more productivity-enhancing functions.

Learn more at:
www.nexgenergo.com/ergonomics/Mark10_7i.html
VATS™ (Vibration Analysis ToolSet)
We are pleased to announce the new Series 2A 16g accelerometers (model #S2A-16G-MF). Initial customer shipments commenced during the quarter.

Learn more at: www.nexgenergo.com/ergonomics/vats.html
Casella Products
We are pleased to announce that NexGen is now a distributor of Casella Noise and vibration instrumentation.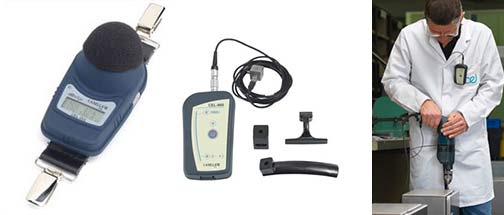 CEL-350 and CEL-350IS dBdge™ Personal Noise Dosimeters
CEL-350 dBdages™ are super-small and lightweight; extremely durable and easy-to-use. With just two control buttons that can be code-disabled for security. Its logging and download functions produce detailed minute by minute data graphs and reports using Insight™ software. By capturing all possible combinations of noise dose parameters from each test, the 350 is an ideal instrument for both experienced and novice users alike. Has defaults for OSHA PEL, HCP and ISO criteria plus allows any combination of threshold, exchange rate and criterion level to be reported.

Learn more at: www.nexgenergo.com/ergonomics/casella3.html
Human Vibration Exposure Monitor
The Bluetooth enabled Casella CEL-960 is a small, easy-to-use and powerful personal exposure monitor for measuring excessive vibration per ACGIH, OSHA and ISO directives. The user can select either real-time data display on their PC or to log the data on the unit's memory for subsequent downloading to a PC and analysis.

The CEL-960 is a Class 1 instrument as defined by ISO 8041 performance specs, and measurements meet the requirements of ISO 5349 (Hand-arm) and ISO 2631 (Whole-body) standards for human exposure and daily exposure limit values and action levels. With octave and 1/3 octave frequency band analysis and vibration signal capture on level exceedance, the 960 and its applications software produce comprehensive analysis reports or concise compliance data at the user's command.

Learn more at: www.nexgenergo.com/ergonomics/casella5.html
Tekscan Products
We are pleased to announce the release of a new Economical Load Force Measurement (ELF™ ) Handle and Software version 4.3. This release includes the following compatibility changes to the ELF System.

Important Release Notes:

The ELF Software v4.3 is only compatible with the new ELF Handle (serial number 126-XXXX). Previous versions of the ELF Handle (serial number 125-XXXX) are not compatible with the ELF Software v4.3.

Any customers planning to upgrade to the latest ELF software v4.3 will also need to purchase the new ELF handle.

In addition, the new ELF Handle (serial number 126-XXXX) is only compatible with ELF System v 4.3 and will not work with previous versions of the ELF Software.

Any customers planning to purchase the new ELF Handle will be required to upgrade their system software to ELF System Software v4.3. Existing Wireless ELF2 (WELF2) handles are fully compatible with this version of WELF2 software v4.3.

Other Notes:
The ELF Software v 4.3 is compatible with Windows 7, 8, XP, and Vista.
For Multi-Handle ELF Systems; the real-time window will automatically update as ELF handles are added and removed; and will support up to 16 ELF Handles (serial number 126-XXXX).
The sampling rate for the High Speed ELF System has increased to rates up to 6,000Hz.
Learn more at: www.nexgenergo.com/ergonomics/tekscan.html
Xsens Products
NexGen has a MTi-28A53G25 at a discounted price.
Please contact us at salesinfo@nexgenergo.com for details.