Ergonomics and Biomechanics Products
HumanCAD®
NexGen is pleased to announce that Version 3 has been released.

New features include:
Binocular vision view
Customizable vision cones
Anchors for measurements
New child mannequin module with multiple skinning algorithms by date range
New features for Advanced Feature Set add-on module (AFS):

Collision Detection
Advanced hand model
Comfort Zones
This version is available to customers on annual maintenance. Please contact us for upgrade costs if you are not on annual maintenance.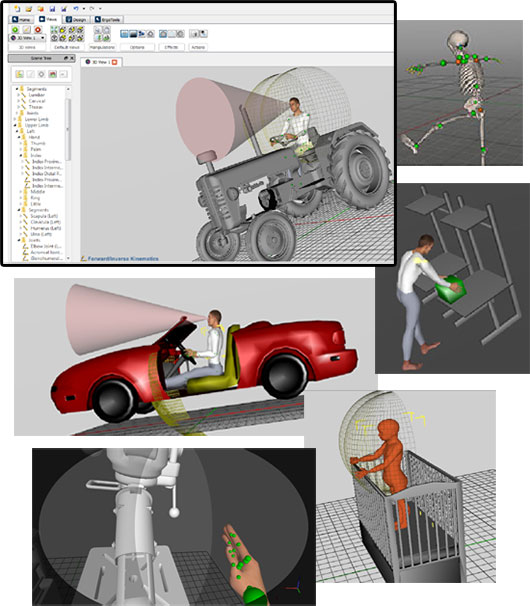 Samples Files
A variety of samples files are available at no charge for customers who have purchased HumanCAD V2 or higher versions. Please contact techsupport@nexgenergo.com.
ManneQuinPRO/ELITE
Support will be discontinued December 31st, 2014. As previously announced, after December 31, 2011, support for ManneQuinELITE and ManneQuinPRO versions 8 thru 10.2 was limited to license assistance. Support for Version 7 and earlier versions were previously discontinued.

Upgrade credits are available for customers who wish to upgrade to HumanCAD Version 3 from ManneQuinPRO Versions 7 through 10.2, ManneQuinBE, ManneQuinELITE and HumanCAD versions 1.0 thru 2.6. The value of these credits is reduced each December 31st.
I2M Products
HM-Analyzer (Human Motion Analyzer)
NexGen is pleased to announce that Version 2 Beta has been released.

HM-Analyzer maps from one to 15 SXTs (inertial motion units or IMUs) to various segments of the body in order to obtain joint angles according to ISB International Society of Biomechanics) or according to American Academy of Orthopaedic Surgeons (AAOS). The software and system are totally scalable allowing you to use any number of sensors as required.

New features include:
Ability to enter anthropometry of a subject. The skeleton will then scale according to the entered values.
Option to change color background of skeleton display area
DATS (Data Analysis Tool Set) has been completely redesigned and includes a new user interface and minimizes steps to perform analysis as well as the ability to save analysis for reuse.
Enhanced calibration of magnetometers and gyroscopes via TK Motion Manager which may provide improved orientation results in settings with minor disturbances of short durations.
3rd party device synchronization as Slave or Master with external hardware systems meeting specified criteria.
View options have been added to view the skeletal movement from different viewpoints.
Synchronization with the Biometrics DataLOG system with sensors such as EMG and their force platform
Thought Technology Products
The SE9405AM Sensor Isolator is a four channel optical isolator that provides isolated analog outputs to data acquisition systems for connection from various Thought Technology sensors that make human skin contact.

The output cable is available with stripped wires or BNC connectors. Multiple isolators can be stacked for additional isolated channels.

Learn more at: www.nexgenergo.com/ergonomics/thought_accessories.html#Isolator
Biometrics
We are pleased to announce the release of Version 9 management and analysis software from Biometrics Ltd for both the DataLOG and DataLINK.

Highlights include:
The New Derived Windows which users will find helpful when analyzing data acquired from more than one unit. New features include data which can be cut from one or more traces allowing for data to be overlaid from different times within the same trace or different traces. You will be able to overlay Power Spectra from different times within the same trace or different traces, and up to 4 trace/trace (XY) graphs can be overlaid.
New option to delete before and after a marked time
New Snap To Max/Min option added to quickly mark the highest or lowest part of a trace.
Export any number of traces in a recording using more than one unit.
New Power Spectrum Option added to in-context menu; this allows a Power Spectrum to be displayed for any marked time.
Enhanced Filters for use during a recording
Please contact us at salesinfo@nexgenergo.com to obtain a full list of all the new features as well as discounted upgrade pricing (for both software and hardware).
Mark-10 Products
User manuals are now available in French, German, Italian and Spanish for most gauge products.

Videos are now available for Series 3, 5 & 7 force gauges as well as Series TT01 and TT02 torque testers.