Ergonomics and Biomechanics Products
HumanCAD®
HumanCAD Version 4.0 was released in June 2016.

New features include:
Improved skinning algorithms
Ability to attach objects together
Ranges of motion editor and ability to save and reuse custom ranges of motion databases
Ambinocular and Binocular vision are both supported
Option to have the manipulator stay in the world reference frame orientation while manipulating an object
Ability to modify the display color of the mesh on objects that are imported
New in the Advanced Feature Set add-on module (AFS):

Comfort Zones; 3D reach clouds are now also painted on a surface of a workstation
New animation capability which allows users to create movements for mannequins and objects by selecting posture, position and orientation for each key frame as well as collision detection and attached objects support.

For all customers who are on annual maintenance and have not yet received this version, please contact techsupport@nexgenergo.com to obtain this update.
Learn more at: www.nexgenergo.com/ergonomics/humancad.html
Biometrics Ltd.
We are pleased to announce the release of the new DataLITE product line. The initial response has been very positive with several orders received.

DataLITE sensors are completely wireless allowing total freedom of movement, real-time joint angular movement, EMG analysis and many other associated physiological measurements.
DataLITE Goniometers
Using the same technology as in Biometrics Ltd's world standard electrogoniometers for dynamic joint movement measurement - the new Biometrics Ltd wireless twin-axis goniometers incorporate a wireless transmitter to send data directly to the computer for display, analysis saving and export or transferring to custom applications in real-time. DataLITE goniometers can be used alone or with other DataLITE sensors.
DataLITE EMG
The LE230 wireless EMG sensor gives superb quality of signal and ease of use. With a bandwidth of 5-495 Hz and a built-in 1000 gain amplifier and wireless transmitter, surface EMG signals are collected and sent to the Biometrics software for analysis. EMG data can be synchronized real-time with other DataLITE sensors as part of a complete DataLITE system.

Learn more at: www.nexgenergo.com/ergonomics/biodatalite.html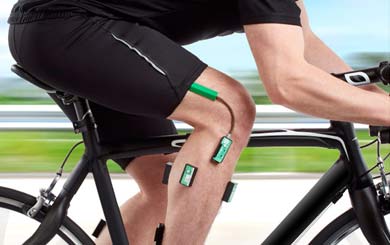 I2M HM-Analyzer (Human Motion Analyzer)
Version 3.0 has been released. New features include:
Webcam support so that the video can be viewed along with the 3D skeleton and displayed data.
Added support for data compression when exporting and recording to HDF5.
The center of mass and center of gravity has been added to the 3D skeleton display.
The performance for importing HDF5 files has been improved.
Learn more at: www.nexgenergo.com/ergonomics/I2M.html
FSA Pressure Mapping Solutions
We are pleased to announce our new HSA (Hand Sensor Array) mats. The two new mats are available in high resolution formats (The 64 sensor mat size has been discontinued.). The new mats provide for larger sensing areas and both can be calibrated to 30 psi.

Learn more at: www.nexgenergo.com/ergonomics/nexhand.html
We are pleased to announce the availability of a free API for customers who purchase the wireless DataPort, the DataPort/Virtual Dataport VDP-API option.

The API allows prospective users to integrate wireless BodiTrak data using wireless or USB connection to their application on Windows, Android and Apple platforms. It can also be used to create complete new applications directly by using the API.

This API will allow customers to obtain sensor pressure values to use with their own applications. The data provided includes the mat SN#, the number of columns and rows in the sensor mat, width and height of the sensor, the minimum and maximum pressure value returned by the sensor, and the units of the pressure values returned by the sensor. Time and frequency data is also provided as well as a variety of other features.
Mark-10 Gauges
Rechargeable Battery for Series 2 Force Gauges
Series 2 force gauges have been redesigned to accept a rechargeable battery, similar to other Mark-10 gauges. Previously, it was available only with a non-rechargeable 9V battery.

This upgrade is effective immediately. All new gauge shipments now include the new electronics, battery, and an AC adapter. The battery and AC adapter are the same as those used with other Mark-10 gauges.