Ergonomics and Biomechanics Products
HumanCAD®
Version 5
Version 5 customer Alpha testing has commenced. Beta testing is currently scheduled for October 2017.

New in V5:
ErgoTools module has been updated with many new tools which include Energy Expenditure, OWAS, RULA, Snook and Mital tables
Capture postures that can be added to the Posture Library using Microsoft Kinect
Additional anthropometric databases:

DTI Japan adults male and female
DTI UK Adults male and female
DTI USA Adults civilians male and female
North Indian workers male and female
New in the Advanced Feature Set add-on module (AFS):
Customized Anthropometry now has 2 approaches to use for customizations
The Animation module has been enhanced to include a choice of interpolation, option to save as a video file and an option to interface with selected ErgoTools (ErgoTools module required).
Additional Discomfort/Comfort analysis
Additional anthropometric databases:

ANSUR I (1989) male and female
ANSUR II (2012) male and female
Canadian Army LF (1997) male and female
CSUM (for CAESAR summary data) for male and female
Customers who are on annual maintenance and would like to participate in the beta testing program are encouraged to contact us.
Version 4
A no-cost Version 4 update which resolved some reported issues is available to all customers whether on annual maintenance or not. Please contact techsupport@nexgenergo.com for more information.
HM-Analyzer (Human Motion Analyzer)
Several motion analysis hardware platforms are now supported. As well, a new version (V 3.1) will be released this quarter.

HM-Analyzer-A (for APDM sensors)
Version V 3.1 for APDM's Opal sensors will be released in the 4th quarter and supports both V1 and V2 Opals. (Version 3 is available for both V1 & V2 Opals.)

Learn more at: www.nexgenergo.com/ergonomics/HM-Analyzer-A.html
HM-Analyzer-I (for NexGen I2M)
Our next version V 3.1 for I2M SXTs will be released in the 4th quarter. Performance improvement is the main update. Customers can contact us for upgrades from version 3 and earlier versions.

Learn more at: www.nexgenergo.com/ergonomics/HM-Analyzer-I.html
HM-Analyzer-K (for Microsoft Kinect®)
A new version to support Microsoft's Kinect 1 and Kinect 2 is available for Alpha testing. While this low-cost technology has certain limitations such as occlusion, it should be of interest to many organizations to calculate joint angles of various joints according to ISB - International Society of Biomechanics (ISB angles are also anatomical angles) or according to AAOS conventions. Various mathematical filters and other options are also included.

Please contact us if you are interested in obtaining more information or testing the Alpha version.
HM-Analyzer-X (for Xsens MTw)
Version V 3.1 for the Xsens MTw Awinda system is being released and will be shown at HFES 2017 in Texas USA.

Learn more at: www.nexgenergo.com/ergonomics/HM-Analyzer-X.html
ErgoImager
Version 3 has been released and has been shipped to initial customers. This new version has additional video formats supported as well as support for Microsoft's Kinect 1 and Kinect 2. NexGen's MQ biomechanical model used in our HumanCAD software has also been added as well as support for the University of Michigan's 3D SSPP versions 5.0.9, 6.0.6 and 7.0.1.

Learn more at: www.nexgenergo.com/ergonomics/ergoimager.html
ErgoMaster
Version 4.5 has been released. New features include:
Pictures of any resolution can now be imported
MPEG and WMV videos can be imported
NIOSH:

Frequency multiplier is now selected on a single click instead of a double click
Frequency multiplier can now be entered manually

University of Michigan 3D SSPP (2D mode):

Added compatibility with versions 6.0.6 and 7.0.1.
Hand load value is automatically converted when the unit type changes

Added user manual to start menu shortcuts
Several previously reported issues have also been corrected in this release.
AnyBody
Version 7 has been released. The new version has an entirely new look and feel; flexible window layouts enabling multi-screen support; a tabbed editor and much more. Other new features include:
New replay options to freely replay your simulations using a slider
New AnyScript functions
Improvements to the C3D reader for gap filling MoCap trajectories
Biometrics Ltd. Products
We are pleased to announce several new products and updated product related information.
DataLITE
New sensors are:
DataLITE Accelerometer ACL500
DataLITE Torsiometers
In-line & S-Beam Load Cells for DataLITE using the AD2 Adapter
Learn more at: www.nexgenergo.com/ergonomics/biodatalite.html

Management & Analysis software
Version 10 software has been released for DataLITE, DataLOG and DataLINK hardware platforms.
New Features of V10 software include:
Compatible with Windows 8 and Windows 10 Desktop, Laptop and Tablet
New Delete Trace Dialogue
Display values and units; Values and Units in Recording Information Dialogue; There are now two boxes displayed for each analogue input to define the way input values (in the range -4000 to +4000) are converted to the Engineering units (such as Kgs or psi).
Conversions; You can now convert in the Recording Information Dialogue if the cursor is within any Zero, Full scale or Units box. The text on the 'Convert' button will change to indicate what conversion is available. Conversions available include lbs to kgs, kgs to lbs, degrees to radians and radians to degrees.
Max/Min display values in analogue inputs dialogue
Copy marked time to a derived window
Product Certification Updates
Biometrics Ltd updated certification to new standard BS EN ISO 13485:2016
DataLOG and DataLINK certifications to IEC 60601-1 edition 3.1
Mark-10 Gauges
New Myometer Kit & Accessories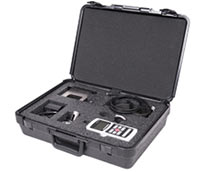 We are pleased to announce that this new kit as well as new accessories for the recently announced new Series E gauges have been released and shipping to customers.
EKM5-200 Myometer Kit
For muscle strength measurement applications, this kit includes a force gauge, strap, and tabletop mounting adapter, with carrying case.
E1013 Myometer Accessory for Series E
For use with recently introduced Series E ergonomics gauges.
E1012 Looped Cable
Flexible stainless steel looped cable for use in pull testing applications. Offered as an option with Series E gauges.
Series E Gauges
The new Series E advanced ergonomics force gauges and kits for ergonomics and related applications released for shipping in April have been very well received. Attachments click and lock into place via innovative Click-Lock™ technology, a rugged antirotation locking mechanism. The attachments may be clicked into 90° or 180° orientations. No fastening is required, as with conventional force gauges, thereby reducing the risk of damage to the instrument.
See: www.nexgenergo.com/ergonomics/Mark10_E_Gauges.html
NexGen will also be including a license of our ErgoIntelligence MMH EI-MMH-SCM: Snook & Ciriello and Mital Table analysis software for all E series kit orders to December 31st. This is a $399 USD value and this offer was provided to all delegates at the 2017 Applied Ergonomics conference in March 2017 and is now being provided to all customers for a limited time.
See: www.nexgenergo.com/ergonomics/ergointelmmh.html
LabVIEW® VI Download
Some Mark-10 customers use National Instruments™ LabVIEW® software to run and collect data from test stands and gauges. To help new users get started, Mark-10 published a "virtual instrument" (VI) to establish serial communication between our products and a LabVIEW® application. The download includes the VI itself as well as an instructional guide. Contact us for download info.
Averaging Mode Expanded
All Mark-10 instruments with the Averaging function now have an additional option -averaging only while the load is above a configurable load threshold. The existing option of elapsed time is still available as well.

All Mark-10 products come with a 3-year parts and labor warranty.
Industrial Lumbar Motion Monitor™ (iLMM3™)
We are pleased to announce that a new software version for the iLMM3, with an enhanced user interface has been released. This version is compatible with new PC-based operating systems and is being provided as a free upgrade to existing iLMM3 users (not applicable to iLMM2 users).

The new version of the iLMM software:
Has been totally re-programmed and is fully compatible with Win 7, 8 & 10
Has enhanced file location features
Provides the user with improved iLMM signal detection and drop-off feedback. If there is something that prevents the signal from being transmitted between the top and bottom of the iLMM, the user will hear a beep (given that their PC sound is turned on)
Provides more flexibility to export low-back disorder risk charts, for use in reports or other documents
Please contact techsupport@nexgenergo.com for further information.