Medical Products
Jamar Products
New Jamar Plus+ Digital Hand Dynamometer
Sturdy aluminum body construction with scratch resistant UV coating. The readout displays isometric grip force from 0- 200 lbs. (90 kg.). The unit's easy-to-read LCD display can be set to display pounds or kilograms. The dynamometer also features digital load cell technology.
Learn more at: www.nexgenergo.com/medical/jamar.html
O2 Analyzer
Drive Check & Go Disposable O2 Analyzer
Features
3-digit LCD display
o Ultra light weight & stableo Comfortable handheld design
o Maintenance free
o Extended battery life
o Easy calibration
o Auto Off
Learn more at: www.nexgenergo.com/medical/O2-Analyzer.html
Thought Technology
New Z-Score Mini-Suite and 4 Channel EEG Connectivity Kit
The Z-Score Mini-Suite and 4 channel EEG connectivity kit provide the elegant solution for your 2 or 4 channel Z-Score assessment and training. Individual z-scores, metrics describing the overall state of a number of z-scores, as well as z-score with standard EEG band amplitudes in parallel. Z-Score Add-on CD (SA7901) is required to get Z-Score values from Dr. Thatcher's normative database.
Z-Score Mini-Suite features:
Quick Start Favorites are pre-defined for you to use. Start a session, review and report with a single click. Even a desktop icon!
Quick, easy interface for z-score settings and thresholds. Right click and use graphical interface to easily select all z-score parameters.
Assessment scripts for eyes open and eyes closed baseline.
"Live training" based on Thatcher normative database
Feedback training using individual z-scores, any combination of z-scores or z-scores in parallel with standard EEG frequency bands.
Benefit from real-time trend graphs to obtain instantaneous measure of progress for all protocols.
Standard feedback tools including DVD playback, AVI animations and single and dual screen configuration.
Simple reports include means and trends for z-score, z-score metrics and EEG amplitudes for all sessions.
For the same session, reports can be obtained simultaneously on all z-scores, standard EEG bands, and all z-score metrics. View trend graphs of epoch means as well as full session means.
Ready for 2 and/or 4 channel functionality
Feedback based on many choices of variables:
Single z-score (can be modified on the fly)

Z-scores index (proportion of z-scores within condition)
Other z-score indices: connectivity, powers, power ratios
Create your own index using a programmable combinations of z-scores (can be modified on the fly)
The suite takes advantage of the full power of BioGraph Infiniti v5.0 by using the Quick Start favorites, which allow you to start a session, review, report and analyze statistics with the click of a single button or even a desktop shortcut. Just one simple click to run any of the 10 Quick Start Favorites:
This mini-suite will allow the user to perform assessment and training with these variables and indices:
6 Metrics: Relative Power; Absolute Power; Power Ratios; Coherence; Phase; Amplitude Asymmetry
8 Bands: Delta; Theta; Alpha; Beta; High Beta; Beta 1; Beta 2; Beta 3
10 Band Ratios: Delta/Theta; Delta/Alpha; Delta/Beta; Delta/High Beta; Theta/Alpha; Theta/Beta; Theta/High Beta; Alpha/Beta; Alpha/High Beta; Beta/High Beta
Z score index (includes all z-scores)
Z score Powers index (includes only the power z-scores, for all channels)
Z score Power Ratios index (includes only the power ratio z-scores, for all channels)
Z score Connectivity index (includes only the coherence, phase and amplitude asymmetry z-scores, for all channel pairs).
Create your own Index using programmable combination of Z-scores (can be modifed on the fly).
Ideal for 2 or 4 channel Z Score or any other multiple channel EEG applications, this kit includes the necessary cables to measure up to 4 channel EEG with common reference and ground, which is required when working with connectivity or other multiple-channel EEG protocols.
This kit contains the following components:
1 - SA9323 TT-EEG gold cup cable - black
2 - SA9315-4 1M4F Y-connector
1 - SA9319 2M1F Y-connector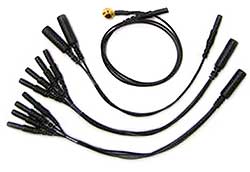 Features of the 4 Channel Connectivity Kit:
Our most flexible TT-EEG kit. Used in combination with four TT-EEG Monopolar/Bipolar Electrode kits.
Connect 1, 2, 3, or 4 monopolar or bipolar channels, with the same reference for all channels.
Choose between linked ear or single ear reference, and between ear clip or cup electrode active ground.
Please note that the 4 Channel Connectivity Kit should be used in conjunction with up to 4 EEG sensors and 4 monopolar/bipolar kits (T8750). Each EEG sensor includes one T8750 kit.
A full Z-Score system requires:
A ProComp2, ProComp5, ProComp Infiniti or FlexComp Infiniti with BioGraph Infiniti 5.0
Z-Score Mini Suite (SA7962)
Z-Score add-on CD with Dr. Thatcher's normative database (SA7901)
2 or 4 EEG-Z sensors (T9305Z)
A 2-channel (T8760) or 4-channel (T8761) connectivity kit
New MyoScan-Z EMG Sensor
Designed for a sampling rate of 2048 samples per second, this new EMG sensor offers an unique impedance check mode, which can be triggered from BioGraph Infiniti software. It measures raw EMG signals with a range from 0 up to 2000 micro-Volts. MyoScan-Z makes impedance check fast, easy and reliable, and avoids risk of cable misplacement. It monitors skin impedance and sensor connection.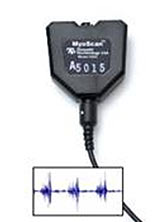 Benefits of impedance check:
Good contact between the electrodes and the skin is required to have a good quality signal and prevent artifacts.
Measuring the impedance between the electrodes is the recommended way to verify good contact. It is simple, fast and accurate.
It shows instantaneously which electrode is not properly connected or which part of the skin is not well prepared.
Impedance check is usually performed with an impedance meter. When you use a regular impedance meter, you have to:
interrupt the session
disconnect the cables
connect the meter to each site and measure them one by one
reconnect the cables (at the right place)
restart the session
And this, every time you need to verify the impedance!
With MyoScan-Z, you can get it done in 3 clicks:
pause the session
run the impedance check simultaneously on all the sites without disconnecting any cable
unpause the session
Also see real-time results in a glance with the color-coding: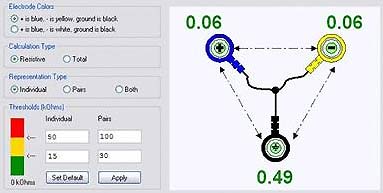 BioGraph Infiniti - Impedance Check Screen
Thought Technology is the only manufacturer providing EMG sensors with built-in impedance check.
(For use with the ProComp/Procomp5 Infiniti channels A - B or all FlexComp-Infiniti channels.)
Learn more at: www.nexgenergo.com/medical/thought_accessories.html
New EKG Wrist Straps with Artifact-Proof Algorithm
Wrist straps now available with EKG (electrocardiogram) sensor for easy and convenient wrist placement.
Wrist placement is faster and eliminates the problem of undressing.
Wrist straps with silver/silver-chloride electrodes are reusable, saving money.
The new advanced IBI from EKG algorithm implemented in BioGraph Infiniti 5.0 (required software) virtually eliminates movement and EMG artifacts.
Learn more at: http://www.nexgenergo.com/medical/thought_accessories.html
New BioGraph Infiniti Version 5.0
BioGraph Infiniti version 5.0 has enhanced compatibility with Windows Vista and comes with many new features and new functions. BioGraph Infiniti version 4.0 owners are entitled to a free downloadable upgrade to version 5.0. The upgrade cost is US$200 for owners of BioGraph Infiniti 3.1.5 or earlier versions.
Major New Features of 5.0 Version:
Favorites & Quick Start: Launching your favorite screens or scripts has never been so fast and so easy. Simply select a favorite from either your favorite folder, Quick Start button, or even a desktop icon.
Quick and Easy Change of animation, sounds, threshold options and text of your screen with just one right-click directly from the recording screen.
Enhanced Compatibility with Windows Vista
Two Webcams and Audio Recording: Record live video and audio from 2 separate webcams and play them back with synchronization of psycho-physiology signals. Ideal for couple counselling.
Instant saving of video, with the ability to jump to any event markers. This facilitates easy review of clinical interactions or other events aligned with the body responses.
The live video images can also be controlled by subject responses in 4 actions: on/off, blurry/clearer, brighter/normal or darker/normal. BioGraph is the only software on market that has this unique function.
Improved DVD feedback: Automatic insertion of a Bookmark in DVD movie when a session is ended, so the next session will re-start the movie at that location.
Improved MIDI Options and Binaural beat Audio Feedback
Heart Rate Variability: pNN50 Computation and HRV Resonant frequency Detection as well as Pulse transit time (delay between EKG R-spike and finger pulse)
New Advanced EKG Algorithm: avoids artifacts from heavy movement and EMG interference, provides more accurate R spike detection and minimizes the number of artifacts from missed or extra beats.
New Features for Developers:
These features are not yet included in an application suite (coming soon), but they are available to those who use developer tools to design their own channel sets and screens.
New Flash Animations: Easily add and use any flash animations as an option to AVI or DVD visual feedback.
Dual Threshold on Line Graphs: Provide inside/outside type of visual and auditory feedback.
Z score - 4 channels: Perform 2 or 4 channel Z score neurofeedback. Train from norms on-the-fly, and give feedback based on a "percentage of z-score in condition", or do pre- and post-session assessments. Metrics include Absolute Power, Relative Power, Power Ratio, Coherence, Phase Difference and Amplitude Asymmetry. (Z Score add-on CD required)
Low Frequency & SCP: Train low frequency or Slow Cortical Potentials using our new EEG-Z3 sensor. (EEG-Z3 and AV Sync sensors required)
New Left-Right Multi Bargraph instrument: for one or two EEG channels, allows you to easily and rapidly define up to 32 bands of EEG training.
Programmable Respiration Pacer: with automatic pacing from the starting to target rate over a chosen time, by either respiration cycle timing in seconds or % of cycle. A Child Respiration Pacer can also be added to the second monitor. Any setting changes clinician makes on main monitor are mirrored on the second monitor.
Poincaré Plot on Lissajous Instrument plots each IBI value against the previous one.
MyoScan-Z, the new unique EMG sensor with impedance checking: BioGraph Infiniti 5.0 supports this new sensor! (Myoscan-Z sensor required)
Learn more at: www.nexgenergo.com/medical/bioinfiniti.html
New Rehab Suite
The newest suite from Thought Technology has been released for the ProComp Infiniti, ProComp 5, and FlexComp. This suite cannot be used with ProComp2 (or with MyoTrac Infiniti, which has its own Rehab Suite). Various new sensors to be used with this suite.
It includes an extensive clinical guide and screens for:
SEMG assessment (general, static and dynamic)
SEMG biofeedback training
Range of motion assessment (static and dynamic)
Range of motion therapy with biofeedback
Manual muscle testing
Algometry
Respiration training with biofeedback (general health, relaxation, breathing during effort)
Heart rate monitoring and heart rate variability
Skin Conductance & Temperature Biofeedback
Learn more at: www.nexgenergo.com/medical/RehabSuite2.html
New Voltage Isolator 4 Infiniti
The Voltage Isolator 4 Infiniti (T9405MA) is an interface device which provides electrical isolation and allows a ProComp Infiniti or FlexComp Infiniti system to be safely interfaced with analog outputs of line-powered systems, such as:
Computers with DAC cards
Isokinetic dynamometers (e.g. Biodex)
Force platforms
Blood pressure monitors
SPO2 monitors
And more...
Learn more at: www.nexgenergo.com/medical/VI4infiniti.html