Ergonomics and Biomechanics Products
Lumbar Motion Monitor™
The 3rd generation Lumbar Motion Monitor (iLMM3) is in production after extensive testing. Highlights include: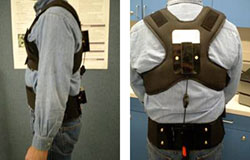 Considerable reduction in weight
Easier and faster setup as iLMM3 has few moving parts
Adjusts automatically to an individual's height/spine length
Simpler software set-up and data-gathering process
The software alerts the user if data quality is compromised
Several initial orders have already been received.

Learn more at: www.nexgenergo.com/ergonomics/lumbarmm.html
HUMANCAD®
We wish to remind customers who wish to upgrade to HumanCAD that upgrade credits are available to customers of ManneQuinPRO Versions 7 through 10.2, ManneQuinBE and ManneQuinELITE. The value of these credits is reduced each December 31st.
I2M Motion Tracking Product Line
A new magnetic calibration routine has been introduced and is included in the TK Motion Manager software.

Additional mounting accessories have also been released.

HM-Analyzer Beta will be released in the next quarter.

Learn more at: www.nexgenergo.com/ergonomics/I2M-IMUs.html
and www.nexgenergo.com/ergonomics/I2M-Accessories.html
and www.nexgenergo.com/ergonomics/HM-Analyzer.html
Xsens Product Line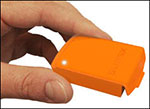 Shipments of the new MTw products have commenced.

Learn more at: www.nexgenergo.com/ergonomics/xsens_MTw.html

NexGen Ergonomics' HM-Analyzer will be available for the Xbus kit in the next quarter.
MVTA (Multimedia Media Task Analysis)
Customers who are upgrading to Version 3 from Version 2.8 or 2.9 and who have a USB license dongle will need to have that reprogrammed when upgrading.

A new tutorial is expected to be released in the coming quarter and will be available for free to all Version3 customers.
Biometrics Ltd. Products
Various new accessories have been released for the DataLOG and DataLINK systems. These include:
New R506 ground strap
R506 comes with a standard 4 mm snap connector to use with proprietary reusable or disposable electrodes with a 4 mm snap.

Learn more at: www.nexgenergo.com/ergonomics/biodataemg.html
SYNC5 cable for the DataLOG
New Event marker, IS2-LED
IS3 Pedal switch event marker - The IS3Pedal is a 2 meter cable with a suitable connector at one end to connect to the DataLOG, and a foot switch at the other. This allows events to be marked while leaving both hands free.

Learn more at: www.nexgenergo.com/ergonomics/biodatalog.html
FSA Force Sensing Solutions
We are pleased to announce the release of the new FSA ST1500 Pressure Mats. These new sensors are extremely flexible and available in standard and industrial seat mat sizes as well as a variety of custom sizes and smaller mats. Not only can they easily be wrapped around a variety of surfaces but they can be embedded into seats or beds to provide feedback to potentially intelligently and automatically adapt to improve comfort.

Learn more at: www.nexgenergo.com/ergonomics/fsast1500.html

FSA software Version 4.0.228 is released for distribution. The update includes improved calibration, faster scan speeds and new translation tools.
Mark-10 Products
The new Series 3 have been released. They are compact in size and feature a sampling rate of 2,000 Hz, overload protected to 150% of capacity, configurable audio alarms, and many other features. MESUR Lite software is included with all orders.

Learn more at: www.nexgenergo.com/ergonomics/Mark10_3_Gauges.html
AnyBody
New software release: The AnyBody Modeling System v. 5.0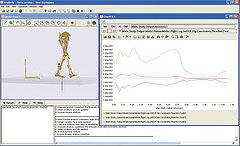 Spine Model Updates

The lumbar spine model in the AMMR v.1.3 has been updated with intertransverse ligaments connecting transverse processes at all levels/joints of the lumbar spine. These ligaments assist in the preservation of motion during lumbar spine axial rotation. Additionally, full sets of ligaments (anterior/posterior, ligamenta flava, interspinous, supraspinous) have been introduced to the T12L1 and L5Sacrum level.

Furthermore, integration of the force dependent kinematics (FDK) solver into the inverse dynamics analysis in the AMS v. 5 has enabled deactivation of the previously prescribed spine rhythm. Instead, the AMS computes positions of the vertebral bodies based on the muscular and external loads. This feature together with the lumbar spine ligaments enables the lumbar spine model to adapt to a natural curvature derived from gravity, passive forces from the ligaments, disk stiffnesses, effects of abdominal pressure, and muscle forces acting during the activity being analyzed.

Finally, facet joints have been added to the model. The model facet joints have the ability to limit the motion of the lumbar spine. Facet joints also create contact forces between superior and inferior articulate processes of adjacent lumbar spine vertebrae. These contact forces in conjunction with the FDK enables contact between the vertebrae and control the spine curvature by reducing unnatural motion of the components of the lumbar spine.

Dynamics Stabilization Device Model

The new updated spine model supported by the new force-dependent kinematics feature in the AMS v.5.0 has been brought into use for a new model example featuring a dynamics stabilization device.

This model replicates a typical design with a titanium rod with two clamps, which are rigidly screwed to the pedicles of adjacent vertebrae on both lateral sides of the spine. In the example the device is attached to L4 and L5 vertebrae. The model enables easy exploration of design options. It is included in the AMMR v. 1.3 which is available to all new users of AnyBody as well as existing users on active maintenance.

Modeling Non-Conforming Joints and Soft-Tissue Governed Displacements

The new AMS v. 5.0 features a new method aimed at handling small displacements (motion) that is insignificant to the gross motion and therefore typically impossible to measure (by e.g. MOCAP), but which may be important e.g. for a joint configuration, i.e. relative positions, reaction forces directions, muscle/tendon moment arms, etc. We use the term force dependent kinematics for this coupling of kinematics and kinetics.

Typical application areas include non-conforming joint modeling, such as advanced modeling of knee joints and inter-vertebrae joints, and soft-tissue governed displacements for instance displacements that are highly controlled by ligaments and other soft tissue.

Force dependent kinematics is fully integrated into the existing inverse dynamics solver in the AMS. Recall that inverse dynamics implies that the kinematic analysis is independent of the forces, and that the motion is completely specified by the user. Inverse dynamic analysis then calculates the forces needed to govern that motion. In contrast, force dependent kinematics essentially implies that the mechanical system is kinematically indeterminate. Therefore, Anybody now supplies a solver that couples the inverse dynamics solver with a quasi-static analysis of user-selected degrees of freedom when the kinematic force dependency is not influencing the gross motion significantly.

The same approach enables analysis of non-conforming joints, soft-tissue governed displacements, and similar phenomena without compromising the advantages of the efficient and highly versatile inverse dynamics approach used by AnyBody.

Gait Model Updates Streamlining Gait Analysis

GaitLowerExtremityProject is a new model included in the new AMMR v. 1.3. It streamlines gait lab work data workflow by enabling simple and fast loading of the model with new C3D marker data using new facilities in the AnyScript model language supporting graphical model interaction. GaitLowerExtremityProject is based on the existing, validated GaitLowerExtremity model.