Ergonomics and Biomechanics Products
Biometrics Ltd.
The fully wireless DataLITE system with sophisticated WIFI communication protocol has been expanded to include wireless torsiometers, accelerometers, in-line & S-beam load cells and remote start/stop hand held switch. These new additions to the DataLITE system build on the successful launch of the wireless goniometers, EMG sensors, dynamometers, pinchmeters, force plates and myometers in the fall of 2016.

See: www.nexgenergo.com/ergonomics/biodatalite.html

Also, Version 10 software for the Biometrics DataLOG and DataLINK is being released by the end of April. This new software version introduces Windows 10 compatibility to these popular data acquisition systems.
HumanCAD®
Development of Version 5 is progressing well and initial customer Alpha testing is planned for the next quarter. HumanCAD 5 will have many new tools and features including the ability to capture postures using Microsoft's Kinect (1 and 2), more databases, additional solution options in ErgoTools and more.

Customers who are on annual maintenance and would like to participate are encouraged to contact us.
I2M HM-Analyzer (Human Motion Analyzer)
I2M solutions will include the new SXT2 inertial sensors as well as an updated HM-Analyzer software version with video synchronization and other new features. Updated IMU specifications and additional information is at: www.nexgenergo.com/ergonomics/I2M.html

A new module to support Microsoft's Kinect 1 and Kinect 2 is scheduled for Alpha testing in the next quarter. While this low cost technology has certain limitations such as occlusion, it should be of interest to many organizations due to its low cost to calculate joint angles of various joints according to ISB - International Society of Biomechanics (ISB angles are also anatomical angles) or according to AAOS conventions. Various mathematical filters and other options are also included.

Please contact us if you are interested in obtaining more information or testing the Alpha version.
Mark-10 Gauges
We're pleased to introduce the following new gauges:

M5-300 Force Gauge
300 lbF / 1.5 kN

M5-1500 Force Gauge
1,500 lbF / 7.5 kN

See: www.nexgenergo.com/ergonomics/Mark10_5_Gauges.html
A new load cell has also been released:

MR01-1500 Load Cell
1,500 lbF / 7.5 kN

See: www.nexgenergo.com/ergonomics/Mark10_5i-3i_sensors.html
Series E Gauges

As well, the new Series E advanced ergonomics force gauges and kits will be available by April and are specifically designed for ergonomics and related applications. These new gauges and accessories are very high quality products. Attachments click and lock into place via innovative Click-Lock™ technology, a rugged antirotation locking mechanism. The attachments may be clicked into 90° or 180° orientations. No fastening is required, as with conventional force gauges, thereby reducing the risk of damage to the instrument.

Two kits are available depending on the accessories you need with gauge capacities of 100 lbF, 200 lbF and 500 lbF (500, 2,500, and 5,000 N).

See: www.nexgenergo.com/ergonomics/Mark10_E_Gauges.html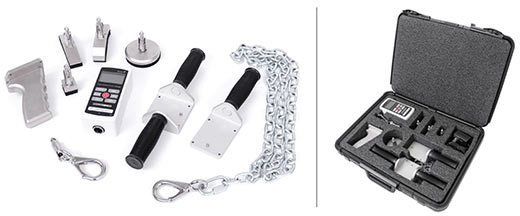 AnyBody Human Modeling Software
Version 6.1 has been released. Many improvements to the AnyScript language have enabled a new framework for MoCap models, which is much easier to use. The improved BVH importer makes it simpler to simulate motion recorded with inertial MoCap systems and enjoy free motion capture outside the confines of your laboratory.

Other new features include tools for advanced overdetermined kinematics and more realistic posture prediction as well as many visualization improvements.

See: www.nexgenergo.com/ergonomics/anybody.html
Industrial Lumbar Motion Monitor™ (iLMM3™)
We are pleased to announce that a new software version for the iLMM3, with an enhanced user interface, will be released next quarter. This version is compatible with new PC-based operating systems and will be provided as a free upgrade to existing users. Please contact techsupport@nexgenergo.com for further information.

The patented LMM has been used worldwide by leading universities and corporations since the 1990s.
ErgoImager
ErgoImager is being completely redesigned. Users will be able to perform analysis of images imported from digital cameras, digital video as well as Microsoft's Kinect 1 and 2. ErgoImager V3 will be going into Alpha testing shortly. Please contact us if you would like preliminary info and to test our new version.
Baseline Products
New digital force gauge kits have been released incorporating a new gauge with new features.

See: www.nexgenergo.com/ergonomics/baseline11.html