Ergonomics and Biomechanics Products
Biometrics Ltd. Products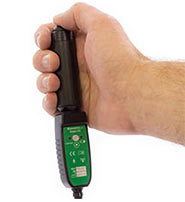 DataLITE Hand Held Trigger Switch (IS6LED)
The new DataLITE Hand Held Trigger Switch provides the user with a very accurate solution for synchronizing the DataLITE with 3rd party systems such as a Vicon or Qualisys motion analysis camera based system.

In addition, it may be used as an event marker input to any DataLITE system recording.
Learn more at: www.nexgenergo.com/ergonomics/biodatalite.html
HumanCAD®
Version 5
NexGen will shortly be releasing its second Beta of Version 5. We would like to thank all our customers who have participated in testing the Alpha and initial Beta versions.

Customers who are on annual maintenance and who would like to participate are encouraged to contact us.
HM-Analyzer (Human Motion Analyzer)
NexGen has released HM-Analyzer version 3.1 for Xsens MTw Awinda, APDM Opal & NexGen I2M IMU systems.
I2M Motion Tracking Product Line
I2M solutions now include the new SXT V2 inertial sensors as well as an updated HM-Analyzer software version with video synchronization and other new features. Updated IMU specifications and additional information is at: www.nexgenergo.com/ergonomics/I2M.html.

ErgoMaster
Version 4.5 was released in the second half of 2017 (see Fall 2017 newsletter). We are now offering upgrade pricing for users of earlier versions.
FSA Pressure Mapping Solutions
We are pleased to announce a new software version that will be included with all new pressure mapping, temperature mat or glove/ISS system solutions. Existing customers can call NexGen to obtain upgrade prices.
A new smaller high pressure cal jig is now available for use with the Glove Pressure Mapping System (GPMS), ISS sensor solutions and small pressure mats. It can be used to calibrate pressures to 30 psi. The larger HPCG is still required for some larger pressure mats that can be used to 30 psi. The new jig weighs only 12 lbs and dimensions when assembles are 14" x 14" x 6.2" (height).
Also, custom pressure mats can be produced. Please contact us for any non-standard sizes or layouts.
Mark-10 Gauges
Series E Gauges
NexGen will again be including a permanent license of our ErgoIntelligence MMH EI-MMH-SCM: Snook & Ciriello and Mital Table analysis software for all E series kit orders placed before June 30, 2018. This is a $399 USD value.
See: www.nexgenergo.com/ergonomics/ergointelmmh.html
E series ergonomics kits include the new Series E advanced ergonomics force gauges. Attachments click and lock into place via innovative Click-Lock™ technology, a rugged antirotation locking mechanism. The attachments may be clicked into 90° or 180° orientations. No fastening is required, as with conventional force gauges, thereby reducing the risk of damage to the instrument.