Ergonomics and Biomechanics Products
HM-Analyzer (Human Motion Analyzer)
HM-Analyzer version 4 has been released for NexGen Ergonomics' I2M, Xsens MTw Awinda and APDM Opal inertial sensors. New features include:
Threshold alarm: Values outside the threshold are displayed in red in the real-time graphs. This is applicable to single channel graphs.
Repetitions: The software will provide a total of repetitions defined by an algorithm. As well, each repetition can be visually identified on the graph. This is an option set by the user.
New position calibration options: A horizontal position has been added for analyzing postures when the subject is in a horizontal position. As well, there is a new optional sensor placement position for the foot sensor at the front top of a shoe or foot which is in addition to the current position at the outside of the foot.
Export graphs as images
Range of Motion scoring: The user can assign their own ranges of motion to score the movement against. This scoring is by segment and the user can assign the joint angle ranges with a corresponding color code assigned by the analyst. Results are displayed as a histogram. The user can also print the histograms for their movements.

Learn more at:
www.nexgenergo.com/ergonomics/MTw-Awinda.html
www.nexgenergo.com/ergonomics/I2M.html
HumanCAD®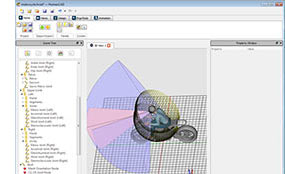 NexGen has released a maintenance update for Version 5. All customers on annual maintenance and who have purchased Version 5 can contact us for this update.

Upgrade discounts to Version 5 are available to customers of previous versions of HumanCAD.
Mark-10 Products
Last year was a record year for sales of the Mark-10 Ergonomic kits.

NexGen Ergonomics will be including a license of our ErgoIntelligence MMH EI-MMH-SCM: Snook & Ciriello and Mital Table analysis software for all E series kit orders to June 2019. This is a $399 USD value and this offer will also be offered to all delegates at the 2019 Applied Ergonomics conference in March 2019 in New Orleans.

Series E gauges are available in two kits for ergonomics applications:
Basic ergonomics testing kit EKE-100-1,EKE-200-1 and EKE-500-1
Advanced ergonomics testing kit EKE-100-2,EKE-200-2 and EKE-500-2
Attachments click and lock into place via innovative Click-LockTM technology, a rugged antirotation locking mechanism. The attachments may be clicked into 90° or 180° orientations. No fastening is required, as with conventional force gauges, thereby reducing the risk of damage to the instrument. All Mark-10 products include a 3-year parts and labor warranty.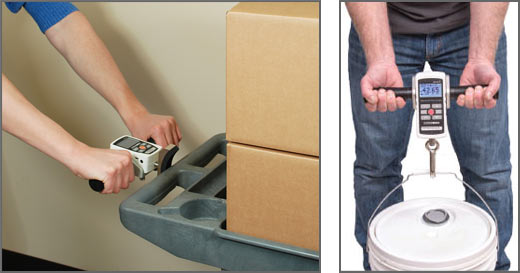 Learn more at:
www.nexgenergo.com/ergonomics/Mark10_E_Gauges.html
www.nexgenergo.com/ergonomics/Mark10_EK3.html
FSA Pressure Mapping Solutions
NexGen announces availability of new Vista Medical BodiTrak2 pressure mat solutions and new wireless IoT interface for the Glove Pressure mapping System and ISS solutions. New software features include built-in wireless capability, faster throughput, and more.

Customers can also request an API that allows for integration of wireless BodiTrak2 data using battery powered wireless or USB connection to their application on Windows, Android and Apple platforms. It can also be used to create completely new applications directly by using the API. This API will allow customers to obtain sensor pressure values to use with their own applications. The data provided includes the mat SN#, the number of columns and rows in the sensor mat, width & height of the sensor, the minimum & maximum pressure value returned by the sensor, and the units of the pressure values returned by the sensor. Time and frequency data is also provided as well as a variety of other features.

The BodiTrak2 Lite Pressure-Mapping System has been released as a low cost solution and is designed for training, comfort, product marketing and for situations where more complex seating evaluations may not be required. Displayed results and data can be saved as snapshots, and comparisons as PDF documents. (Actual data recordings cannot be saved.)

Key Features:
Easy-to-use tablet-based display of pressure distribution
Simple comparison of pressure distribution snapshots
Simplified statistical data on screen
PDF summary report
A whole new family of balance and gait systems is also available. BT2 standing balance mats provide an effective, affordable alternative to force plates and provide additional information.
Learn more at:
www.nexgenergo.com/ergonomics/BodiTrak2-Pro.html
www.nexgenergo.com/ergonomics/BodiTrak2-Lite.html
Biometrics Software for DataLITE
Biometrics Ltd is proud to announce the release of Biometrics Management & Analysis Software v10.26 for DataLITE. New software features inlcude:
A new RF channel optimization test determines the best WIFI frequency to use within the test area.
The number of RF channels has been increased from 4 to 8, meaning several DataLITE systems can operate simultaneously in the same work environment.
The RF channel test is an easy way to detect errors on all 32 frequencies available to DataLITE and determines the best 'RF channel' to use.

DataLITE communications between the dongle (version 4 firmware or higher) and associated sensors use 4 frequencies out of a possible 32 within the range of 2.403ghz to 2.480ghz; the choice of 'RF channel' number selects which 4 to use.

The RF channel test performs multiple transmissions of data on all available frequencies in sequence without using any error correction. A result of 100% means that all data transmissions on that frequency have been successfully transmitted and received. The ideal 'RF channel' to use would be one where all 4 frequencies used by that RF channel are 100%.

A new DataLITE tutorial is available explaining how to easily set up, configure and record using DataLITE wireless EMGs, Electrogoniometers and a Hand Held Trigger Switch. Helpful for both new and existing customers, the guide explains many features of the DataLITE system. Biometrics Ltd's instructional tutorials are available to customers only, and can be accessed by logging in with your username and password. Customers can request access to the tutorials by emailing us.
Casella Products
Insight software has been removed from all dBadge2 Series dosimeters kits. It can be ordered as a separate item (model ISC099).
The dB24 software for the CEL-24X Series is now free. Therefore the CEL-24X/K2 kits have been removed from the price list. If you are planning to use the dB24 or CasellaDrive software, which are both available for download, then you will need the USB cable, model CMC51, ordered as a separate item, to connect the sound meter to the computer.
The CEL-620.xx/K1 kits are equivalent to what the CEL-620.xx/K2 kits were in 2018. They include the Insight software now. The CEL-620.xx/K2 models have been removed.