Lafayette Hand-Held Dynamometer (Force) Testing System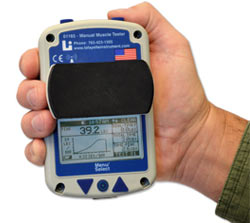 The Lafayette Hand-Held Dynamometer (formerly known as the MMT) is an ergonomic hand-held device for objectively quantifying muscle strength (force measurement).
The test is performed by applying force to the subject's segment. The objective of the test is to overcome or "break" the subject's resistance. The HHD records the peak force and the time required to achieve the "break" providing reliable, accurate, and stable muscle strength readings that conform to most testing protocols.
The HHD also features a wide range of customizable options for data storage, preset test times, and force thresholds.
The HHD comes with 3 stirrups, user's guide, battery charger, and carrying case.
Features
Measures:

Peak force
Time to reach peak force
Total test time
Time within selectable ranges
Average force

Data storage for up to 150 tests in on-board memory
Automatic or manual storage of data
Measurement range 0-300 lbs (136.1 kg/1334 N)
Selectable test time from 1-10 seconds
Tone to indicate start, stop, and entering within a range
Microprocessor controlled
Built-in stored data browsing capability
Easy to read graphical LCD display
Automatic shutoff after 5 minutes of inactivity
Battery indicator on LCD display
Interactive menus allowing users to select device options
Battery powered: (1) rechargeable lithium-ion battery
Specifications
Size: 3.16" x 5.11" x 1.6" (8.03cm x 12.98cm x 4.1cm)
Range: 0-300 lbs (136.1kg) (1335 N)
Accuracy: ± 1 % over full scale or ± 0.2 lbs
Resolution: 0.1lbs/0.1kg/0.1N(0-999.9N) / 1N(1000N-1335N)
Battery Life: 6 hrs powered on, 30 minutes after low battery condition
Charge Time: 80% charge in 45 minutes / Full charge in 2 hours
Data Storage Capacity: 150 tests
Calibration Points: 31 point (Every 10lbs, 0-300)
Preset Test Length: 0.5-10 seconds; in 0.1 second increments
Optional Accessories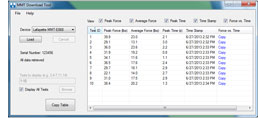 HHD Download Tool - Model 01165D
Software that allows easy download of the stored values from the Model 01165 Hand-Held Dynamometer to your computer via a Bluetooth connection. The software is capable of displaying peak force, average force, time to peak, test date and time and force over time data. Free updates are available with an internet connection.
Sanitary Covers for HHD - Model 01165SC
Set of 25 replacement sanitary covers for the Model 01165 Lafayette Hand-Held Dynamometer.