MyOnyx 4-Channel Encoder System
The MyOnyx device is a portable, rechargeable device for surface EMG biofeedback and electrostimulation which offers three functionality modes: standalone, remote control with an Android device and PC controlled with Windows software.
MyOnyx: Portable & Wireless
Operates alone, with a mobile app or PC software. Designed by therapists for therapists.
Implementing the best Evidence and current concepts of Motor learning, neuroplasticity, and patient centered care and engagement.
Setting the stage for the clinician to bring their own knowledge and expertise into the treatment, rather than offering a one-size-fits-all solution.
Features
MyOnyx gives you quick and easy access to a wide variety of modalities, with state-of-the-art advanced features:
Electrostimulation: 4 channels of fully customizable powerful stimulation.
SEMG Surface Electromyography: 2 channels of 2048s/s raw signal. A plethora of feedback types and options: games, music, and animations. Simple or detailed reviewing, editing and reporting features. Measure patient muscle activation efforts, and teach relaxation, activation or fine motor control with the power of Biofeedback.
ETS EMG-Triggered Stimulation: state of the art modality allows patients to start a task actively, and be assisted by electrostimulation once reaching a set threshold, thereby rewarding effort with movement and promoting neuroplasticity.
Two Systems to Choose From:
Basic - T9000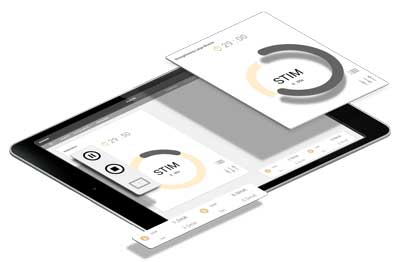 Features:
Standalone mode
Remote Control mode
Includes:
1 MyOnyx device
4 EMG/STIM 2 lead cables with DIN connectors
1 patient drive lead
Medical grade power supply
4 DIN to snap adapters
Electrode samples (3 Unigel & 1 AxelGaard STIM electrode)
MyOnyx hardware manual
MyOnyx App (Available on Google Play)
Extended - T9030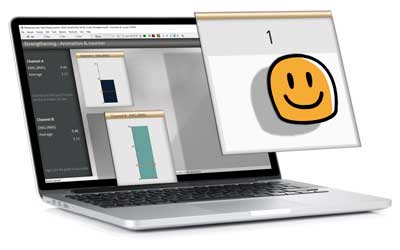 Features:
Standalone mode
Remote Control mode
PC Control mode
Includes:
All the components of the Basic package
BioGraph Infiniti & Developer Tools
MyOnyx Rehab Solution
Hardware Specs
Wireless connectivity to Android tablets and Windows PCs via Bluetooth
8 GB of internal memory to save client sessions and custom protocols
4 inputs with multiple combinations of SEMG and ESTIM channels

Inputs A & B can be set for EMG or STIM
Inputs C & D are for STIM only

Separate patient drive lead for shared ground
Comes with preset ESTIM programs
Dual Exercise mode allows you to run two STIM programs at the same time
Allows users to edit/customize ESTIM programs
Ability to run STIM sessions without selecting a client (tap and go)
Inside the device, raw EMG is sampled 2048 times/second

In the Android app, EMG is displayed in RMS
The MyOnyx Rehab Solution can display EMG raw or RMS
The MyOnyx device is currently only available for sale in the United States. This is the replacement product of the MyoTrac Infiniti. It will also be launched in other territories worldwide as relevant local certifications are obtained. For further information please do not hesitate to get in contact with our sales staff.