CHATILLON® MSE-100-M Dynamometer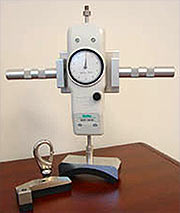 The Chatillon MSE-100-M Dynamometer is a simple-to-use, ergonomically designed mechanical instrument ideal for clinical or field muscle strength evaluations. The MSE-100-M features a large, easy-to-read 2-1/4" analog dial (100 x 0.50 lbf) with tare ring. The gauge is uni-directional and displays force with an accuracy of better than 0.5% of full scale.
The MSE-100-M comes standard with a handle assembly and a protective carrying case. Use with optional (FCEK) or (MSCK). The handle assembly is easily removed for storage. A convenient peak hold switch, located on the front of the instrument, can be set to automatically freeze the dial measurement at the peak force applied by the patient. All MSE-100-M gauges come standard with a Certificate of Calibration with data verification to NIST.
Standard Gauge Measurement Functions
Tensile (Pull) Load (one direction dedicated to pull)
Compression (Push) Load (one direction dedicated to push)
Peak Tension or Compression Load (switch activated)
AMETEK and CHATILLON are registered trademarks of AMETEK, Inc.