E-LINK ESW Upper Extremity Evaluation Software
Comprehensive software documents the results of upper extremity tests and data collected manually, including some that factor into the Upper Extremity Impairment Ratings.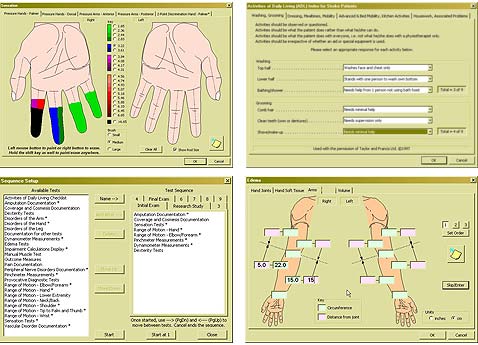 The Biometrics Evaluation and Impairment Calculation Software modules provide standardised reporting with simple, fast data entry increasing speed and accuracy of data collection, documentation, reporting and calculation of impairment.
Test Sequence - allows the user to set up testing protocols
Amputation - graphical documentation
Coverage/comesis - graphical documentation of physical appearance
Sensation Tests - graphical documentation of Semmes Weinstein static touch pressure and Two Point Discrimination
Outcomes Measures Documentation
Activities of Daily Living Index
Pain
Manual Muscle Test - upper extremity muscles and functions
Oedema - circumferential and volumetric
Provacative Diagnostic Tests
Dexterity Tests
Other Tests
To obtain the Upper Extremity Impairment Rating, this software is used in conjunction with the H500 Hand Kit, R500 ROM Kit and the ICSW Upper Extremity Impairment software. Automatic calculation of impairment saves significant time over manual methods and prevents calculation errors.