E-LINK LSW Lower Extremity Evaluation
and Impairment Calculation Software
Comprehensive software for documentation of manually collected lower extremity measurements and calculation of impairment increases speed and accuracy of data collection and reporting.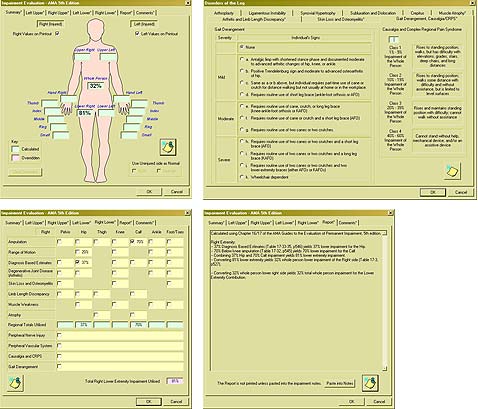 The Biometrics Evaluation and Impairment Calculation Software modules provide standardised reporting with simple, fast data entry.
Test Sequence - allows the user to set up testing protocols
Amputation - graphical documentation
Oedema - circumferential and volumetric
Manual Muscle Test - lower extremity functions
Arthroplasty
Ligamentous Instability
Synovial Hypertrophy
Sublocation and Dislocation
Crepitus
Muscla Atrophy
Arthritis
Limb Length Discrepency
Skin Loss
Osteomyelitis
Gait Derangement
Causalgia
CRPS (Complex Regional Pain Syndrome)
Vascular Disorders
Diagnosis-based Impairment Estimates
Lower Extremity Impairment Calculation
Lower Extremity Impairment is automatically calculated as data is collected using the AMA (American Medical Association) Guides to the Evaluation of Permanent Impairment (rev 4th & 5th editions).
To obtain the complete Lower Extremity Impairment Rating, this software is used in conjunction with the R500 ROM Kit. Automatic calculation of impairment saves significant time over manual methods and prevents calculation errors.
The comprehensive Impairment Report provides both the summary values as well as detailed charts and text showing how the summary values were calculated. The AMA Guides table and page references are included in the detailed text report.