E-LINK R500 Range of Motion Kit
Accurate measurements of upper and lower extremity ROM with precise electronic tools for evaluation and progress reporting.
The Biometrics R500 ROM Kit provides precise electronic tools for:
Upper and lower extremity range of motion measurements
Fast and accurate data collection with progress reporting and computerised documentation
Speed and accuracy of data collection are greatly increased using the automated hand held goniometers - the goniometer is positioned on the joint and a press of the button enters the data in 1° increments. The small goniometer is used for the hand and toes; the large is for wrist, elbow, shoulder, hip, knee, and ankle.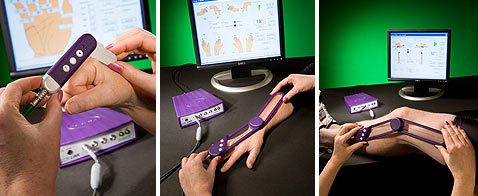 The R500 measures:
Hand (fingers & thumb) - active & passive, extension & flexion, abduction & adduction, lateral deviations & rotational deformities, calculation of Total Active Motion and Total Passive Motion.
Wrist - active & passive, extension & flexion, radial & ulnar deviation
Forearm - active & passive, pronation & supination
Elbow - active & passive, extension & flexion
Shoulder - active & passive, extension & flexion, abduction & adduction, internal & external rotation
Hip - active & passive, extension & flexion, abduction & adduction, internal & external rotation
Knee - active & passive, extension & flexion, valgus & varus, internal & external malrotation
Ankle - active & passive, dorsiflexion/plantarflexion, inversion/eversion
Toes - active & passive, MTP flexion/extension, IP flexion of the Great Toe
Documentation of ankylosis and arthrodesis for the above joints
Other ROM Measurements (entry of manually collected data)
| | | |
| --- | --- | --- |
| Progress reporting over multiple sessions, in both graph and table form. | | The R500 requires the InterX Unit as the interface to the computer. |