ProComp 2™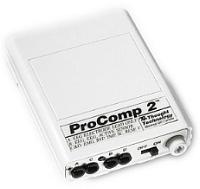 The ProComp 2™ is a compact yet powerful two-channel device that allows clinicians to set up a second clinical system - or to empower their clients by offering them a take-home device that is convenient to wear on a headband or a shirt collar.
The ProComp 2 contains a built-in EEG sensor (simply connect an extender cable for EEG monitoring and biofeedback), and it can use any two of the ProComp Infiniti sensors. The ProComp 2 system contains all the peripherals to easily connect it to a desktop or laptop IBM-compatible PC.
Benefits for you and your clients:
Add additional training rooms to your clinic quickly and economically
Promote training in the home environment to improve outcomes
Enhance long term compliance
Monitor peripheral measures as well as EEG
Quality and expert support from Thought Technology
Features
Monitors 2 channels simultaneously:
- 2 EEGs
- 1 EEG and 1 EKG
- 1 EEG and 1 peripheral
- 2 peripherals
Full 13 bit resolution with fiber-optic cable for low noise and flexibility
Easily worn on headband or shirt collar
The Infiniti software is able to record up to 2 video channels along with force, goniometry and physiological data. The video is usually acquired from a WebCam device connected to a USB port.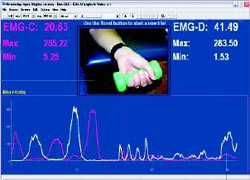 Click here to learn more about accessories for this product.
Specifications
Approx. Size: 2 1/2" x 2 3/16" x 5/8" (64mm x 56mm x 16mm)
Approx. Weight w/o Batteries: 40 g
Input Impedance (Input A): >1,000,000 mohms
Input Impedance (Input B, C, D): >2 mohms
Resolution (Input A only): <0.1 µV RMS
Signal Input Range (Input A): 0-200 µV RMS
Signal Input Range (Input B, C, D): 2.0V - 3.6V
CMRR (Input A): >130 @ 2 Hz to 45 Hz
Channel Bandwidth: 0 Hz - 45 Hz
Sample Rate/Channel (A, B): 200 OR 256 samples/second
Sample Rate/Channel (C, D): 20 or 32 samples/second
Supply Voltage: 1.0V - 1.6V
Current Consumption: 75 mA - 150 mA @ 1.5 V
Battery Life (Alkaline): 10 Hours (minimum)
Low Battery Warning: 1.1 V ±0.2 V
Data Output Protocol: 19.2 or 38.4 Kbaud, 8 Bits, 1 Stop, No Parity
Analog to Digital Conversion: 13 bits
ProComp 2 is a trademark of Thought Technology Ltd.