Thought Technology ProComp Infiniti
The ProComp Infiniti is a new eight-channel, multi-modality encoder that has all the power and flexibility you need for real-time, computerized biofeedback and data acquisition in any clinical setting.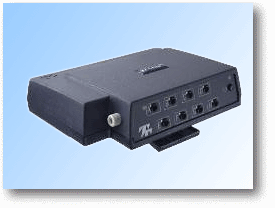 The first two sensor channels provide ultimate signal fidelity (2048 samples per second) for viewing RAW EEG, EMG and EKG signals. The remaining six channels (256 samples/sec) can be used with any combination of sensors, including EEG, EKG, RMS EMG, skin conductance, heart rate, blood volume pulse, respiration, goniometry, force, and voltage input.
In short, the ProComp Infiniti covers the full range of objective physiological signals used in clinical observation and biofeedback.
Housed in an ergonomically designed case and requiring only a USB port, ProComp Infiniti can be used with any IBM-compatible laptop or desktop PC. What's more, ProComp Infiniti can capture data in real time by connecting directly to the PC via fiber-optic cable, or it can store data on a Compact Flash memory card for uploading later to the PC.
ProComp Infiniti comes complete with:
14 bit resolution, eight-channel ProComp Infiniti encoder unit
TT-USB interface unit
Fiber-optic cables (1' and 15')
Four alkaline "AA" batteries
Sleek fabric storage and carrying case
The Infiniti software is able to record up to 2 video channels along with force, goniometry and physiological data. The video is usually acquired from a WebCam device connected to a USB port.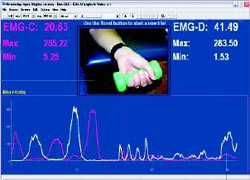 Developer Tools allow for high end users to create their own screens, scripts and channel sets. This ultimately provides the customer with the most variety under one system.
Click here to download the ProComp Infiniti User Manual.
Click here to learn more about accessories for this product.
Specifications for ProComp Infiniti Encoder (SA7500)
Size (approx.): 130mm x 95mm x 37mm (5.1" x 3.7" x 1.5")
Weight (approx.): 200g (7oz)
Power Source: 4AA batteries, single use alkaline or NiMh Rechargeable
Supply Voltage: 3.6V - 6.5V (fiber optic), minimum 4.0V (Compact Flash)
Battery Life, Alkaline cells: 30h typical, 20h minimum
Low-battery warning: 20 - 30 minutes of battery life remaining
Sensor supply voltage: 7.260V ±2mV
ADC output: 14bits
Full-scale input range, DC: 2.8V ±1.696V
LSB magnitude: 207uV
Encoder channel bandwidth (3dB) and sample rate:
DC - 512Hz @ 2048 samples/second
DC - 64Hz @ 256 samples/second
DC - 64Hz @ 200 samples/second
DC - 8Hz @ 32 samples/second
DC - 8Hz @ 20 samples/second
Anti-aliasing Filter: 5th order Butterworth
Alias rejection: 30dB typical
DC gain accuracy: ±0.5% (initial, or after self-calibration)
DC offset: ±3LSB (initial, or after self-calibration)
ProComp Infiniti is a trademark of Thought Technology Ltd.