Baseline® Electronic Push-Pull Dynamometers
and Force Gauges
The Baseline Electronic push-pull dynamometer uses state-of -the-art "load-cell" technology to assure the highest standards of accuracy, repeatability and reliability. The unit is available in four measurement ranges and comes complete with 3 push pads, 1 pull hook and a padded carry case. All units are CE certified and come with a 1-year parts & labor warranty. Handles and accessories are interchangeable with the Baseline hydraulic push-pull dynamometer.
Specifications
Accuracy: ±0.5% of full scale
Sampling rate: 500 Hz
Power: AC or rechargeable battery, with multi-step low battery indicator
Battery life: Backlight on - up to 7 hours of continuous use,
Backlight off - up to 24 hours of continuous use
Safe overload: 200% of full scale (display shows "OVER" at 110% and above)
Weight: 12-0340 - 12-0341: 0.7 lb [0.33 kg],
12-0342 - 12-0343: 0.9 lb [0.41 kg]
Environmental requirements: 40 - 100°F, max. 93% humidity, non-condensating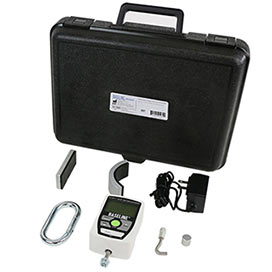 Models
12-0340 50lb/22.5kg
12-0341 100lb/45kg
12-0342 250lb/112.5kg
12-0343 500lb/225kg
Included Accessories
12-0371 Large curved pad
12-0370 Straight pad
12-0372 1 cm² circ padded
12-0377 Medium hook
12-0379 Oval snap hook
Optional Accessories
See our Baseline Push-Pull Dynamometer/Gauge Accessories Page for complete information about available accessories.
Baseline is a registered trademark of Fabrication Enterprises Incorporated.