Ergonomics and Biomechanics Products
HumanCAD®
An updated Academic Guide has been released for Version 6 with new exercises. 19 exercises are now included. ErgoTools is required for the Academic Guide.

HumanCAD Version 7 development is progressing well and we expect to release our initial Alpha version by the end of the second quarter of 2023.
New features include:
The following anthropometric databases were added:


US Army Marines 2010 (contains inter-variable correlations)
US Army Pilot personnel 2012 (contains inter-variable correlations)
Dutch 1999 Male and Female anthropometric databases (contains inter-variable correlations)
Polish Male and Female anthropometric 2001
Malaysian Male and Female anthropometric 2010
Canadian Army 2012
Chinese Elderly 2007 (only for Elderly Module)

ErgoTools has been updated to include:


REBA
LM-MMH 2021
Updated RULA interface
RSI, COSI & CUSI
New reporting options

Child module updated to include Mexican Primary School Children 2011 (6 to 11 years old)
Advanced Feature Set animation module has been updated to correct some reported issues.
Faster file processing and ability to import larger files
Customers on annual maintenance can contact us to try the new version.

Click here to learn more.
HM-Analyzer and Xsens MVN Systems
NexGen provides complete integrated systems with MVN hardware which include our latest HM-Analyzer Version 5 for the MVN Awinda Starter and MVN Awinda systems. HM-Analyzer includes the new Ergo-Analyzer module with RULA and OWAS analysis and many new features including Range of Motion scoring for the AAOS convention as well as new report format options such as .odt, .html and .pdf formats.

Our powerful but easy to use HM-Analyzer software that runs on Xsens MTw Awinda systems also runs on Xsens MVN systems. It provides the user with considerable flexibility in which joints they want to analyze as well as multiple joint angle conventions, pose calibration options and a variety of analysis tools.

Please contact us to obtain quotations for an integrated solution. MVN customers can contact us for software only prices and to obtain a software trial.
Biometrics Ltd. Products
System Integration Options

Customers have a variety of system integration options between Biometrics Ltd equipment and most biomechanical equipment.
Application Programmable Interface (API)
API software can help accelerate the development of research applications. It is configurable with DataLITE, DataLOG, or DataLINK interfaces and sensors for deploying simple biomechanics research applications to advanced commercial applications for monitoring human movement and more.

Software Development Kit
The DataLINK SDK enables researchers to develop custom software that processes and visualizes surface EMG and other physiological data transmitted from sensors.
Analog Integrations
Strict synchronization between DataLITE ADVANCE, DataLINK, or K800 Amplifier interfaces are available with third-party equipment.

Real-time continuous output of analog and digital inputs via an R2000i cable allowing connection to virtually any analog data recording device or video motion capture system.
DataLITE ADVANCE
The DataLITE ADVANCE is a desktop unit incorporating three multi-channel analog output ports for simple, accurate, and robust data synchronization to third-party systems.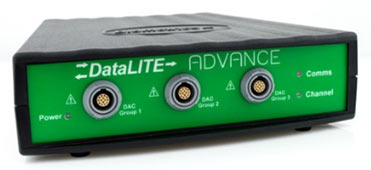 Biometrics products include the DataLITE, DataLOG and DataLINK systems which support various accessories including EMG, goniometers, load cells, dynamometers, FSRs and more.
ErgoImager Pro
NexGen Ergonomics has been working on a major upgrade to its ErgoImager software which will be renamed to ErgoImager Pro. We expect to release our initial Alpha of version 4 by the end of the second quarter of 2023.

New features include:
Revised NIOSH Lifting Equation
Energy Expenditure
OWAS
Snook & Ciriello Tables
Mital, Nicholson & Ayoub Tables
RULA
REBA
Hand strength MAE (Maximum Acceptable Efforts) & AFF (Arm Force Field) methods.
The MAE method is designed for repetitive tasks that use frequency and/or duty cycle (DC) to predict maximum acceptable efforts (MAE) as a percentage relative to maximum voluntary efforts (MVE). The AFF method predicts manual arm strength (MAS) for a wide range of body orientations, hand locations and any force direction. This method uses an artificial neural network (ANN) to predict the effects of hand location and force direction on MAS and includes a method to estimate the contribution of the arm's weight to the predicted strength.
New Liberty MMH 2021
Revised Strain Index (RSI), Composite Strain Index (COSI) & Cumulative Strain Index (CUSI)
Ability to import background image or from digital video
Force Gauge Products
NexGen Ergonomics sells several brands of force gauges which include digital, mechanical and hydraulic models. These include Mark-10 Ametek and Baseline brands.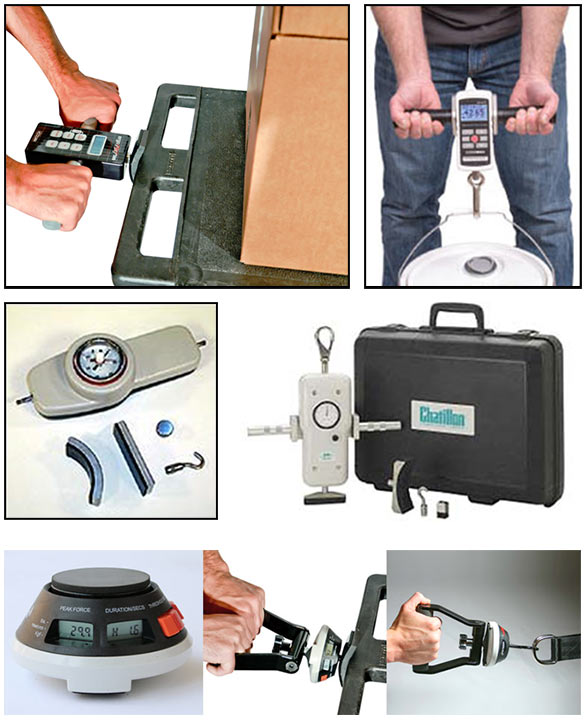 Please visit our ergonomics product area of our website for product details and contact us to obtain discounted pricing.
Anthropometers
We are pleased to announce two new sliding anthropometric calipers designed to measure a straight-line distance between two landmarks with an accuracy of 1 mm. Two models are available with a range of 0 to either 30 or 70 cm in 0.1 cm increments.

Hand Dynamometers and Pinch Gauges
NexGen sells a large variety of hand dynamometers and pinch gauges from a variety of manufacturers.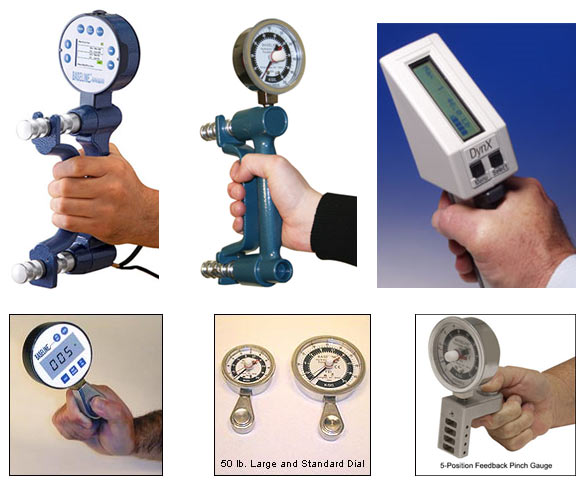 Please visit our medical product area of our website for product details and contact us to obtain discounted pricing.