Ergonomics and Biomechanics Products
HumanCAD®
Version 6 has been released. It includes a new balance feature, more databases, new clothing appearance options and other updates. In ErgoTools we have added the Hand Strength MAE (Maximum Acceptable Efforts) & AFF (Arm Force Field) methods. Additional databases and ROM data have been added to the child module. As well, a new optional Elderly module has also been released.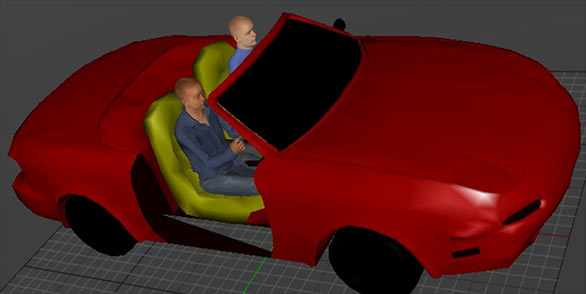 Customers on annual maintenance can contact us to receive the new version.

Click here to learn more.
Biometrics Ltd. Products
System Integration Options

Customers have a variety of system integration options between Biometrics Ltd equipment and most biomechanical equipment.
Application Programmable Interface (API)
API software can help accelerate the development of research applications. It is configurable with DataLITE, DataLOG, or DataLINK interfaces and sensors for deploying simple biomechanics research applications to advanced commercial applications for monitoring human movement and more.

Software Development Kit
The DataLINK SDK enables researchers to develop custom software that processes and visualizes surface EMG and other physiological data transmitted from sensors.
Analog Integrations
Strict synchronization between DataLITE ADVANCE, DataLINK, or K800 Amplifier interfaces are available with third-party equipment.

Real-time continuous output of analog and digital inputs via an R2000i cable allowing connection to virtually any analog data recording device or video motion capture system.
DataLITE ADVANCE
The DataLITE ADVANCE is a desktop unit incorporating three multi-channel analog output ports for simple, accurate, and robust data synchronization to third-party systems.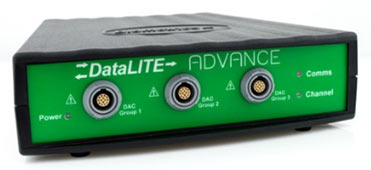 Mark-10 Force Gauge Products
Mark-10 products are known for their high quality and 3-year warranty.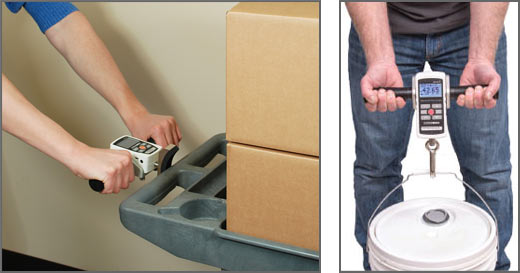 Please contact us for our various discount offers as well as bundles with our ErgoIntelligence MMH EI-MMH-SCM: Snook & Ciriello and Mital Table analysis software.
Click here to learn more about Mark-10 Gauges.
Click here to learn more about Mark-10 Ergonomics Testing Kits.
VATS™ (Vibration Analysis ToolSet)
VATS Version 4 has been released. The software has been completely redesigned and is a complete new software product. Some of the new features include:
A new properties function has been added to set your default settings for the various tools.
Customers can make multiple data selections in the raw data view. These selections can then be saved and users have the ability to load them again for further analysis.
A new processing module for the revised ISO 2631-5 2018 standard has been added.
Customers can now set an offset automatically.
You can now select what data to be exported and in which formats [HTML, PDF, CSV and Plain Text (txt)].
In the FFT panel, the FFT is now applied to the entire selected data.
You can now change the time history window size (in seconds) for the selected algorithm (Whole Body: ISO2631-1, ACGIH and BS 6841; and Hand-Arm: ISO 5349, ACGIH)
VATS is available for either hand-arm or whole body analysis. Hand-arm vibration analysis is based on the ISO 5349 and ACGIH standard for hand arm vibration (HAV). Whole body vibration analysis is based on the ISO 2631-1, 2631-5 (2004 and 2018), BS 6841, and ACGIH standard for whole body vibration (WBV).

Existing VATS customers can contact us to try the new version and to request upgrade pricing.

VATS software can be purchased as a stand-alone software product to import acceleration data to be analyzed from other systems.

Click here to learn more.
HumanCAD-MQSW
HumanCAD MQSW Version 2 has been released. MQSW is a SOLIDWORKS® plug-in. Current product information is on our website.
HM-Analyzer and Xsens MVN Systems
We are pleased to announce that HM-Analyzer Version 5 software has been released for the MVN Awinda Starter and MVN Awinda systems. NexGen provides complete integrated systems with MVN hardware. It includes the new Ergo-Analyzer module with RULA and OWAS analysis and many new features including Range of Motion scoring for the AAOS convention.

Our powerful but easy to use HM-Analyzer software that runs on Xsens MTw Awinda systems also runs on Xsens MVN systems. It provides the user with considerable flexibility in which joints they want to analyze as well as multiple joint angle conventions, pose calibration options and a variety of analysis tools.

Please contact us to obtain quotations for an integrated solution. MVN customers can contact us for software only prices and to obtain a software trial.
FSA Pressure Mapping Solutions
NexGen provides a full range of pressure mats which include hand sized mats, seat and bed sized mats, as well as custom mats. Temperature mats in a variety of sizes are also available.

Click here to learn more about seat and bed sized mats.
Click here to learn more about hand sized mats.
HM-Analyzer for APDM IMU Systems
Our HM-Analyzer Version 5 has been released. New features include:
Additional file export coordinate options
Range of Motion scoring added for the AAOS convention. The user can assign their own ranges of motion to score the movement against now using either ISB or AAOS conventions. This scoring is by segment and the user can assign the joint angle ranges with a corresponding color code assigned by the analyst. Results are displayed as a histogram. The customer can also print the histograms for their movements.
New Ergo-Analyzer module with RULA and OWAS.
MVTA Multimedia Video Task Analysis®
MVTA Multimedia Video Task Analysis automates time and motion studies and ergonomic analysis of visually discerned activities using a novel graphical user interface.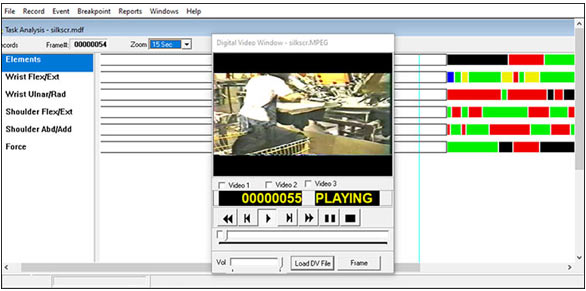 The software enables users to identify events interactively with the use of break points in the video record (identifying the start and end of an event). The video can be analyzed at any speed an in any sequence (real time, slow/fast motion, or frame-by-frame in forward/reverse direction). MVTA produces time study reports and computes frequency of occurrence of each event as well as postural analysis.

Click here to learn more.